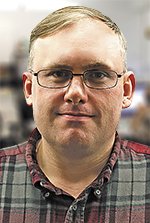 Keith Lobdell
South Bureau Editor
518-585-9173 Ext: 111
Keith Lobdell returned to the Valley News in December of 2010 after spending four years as a reporter with the Whitehall Times. Lobdell previously worked at Denton Publications from 2000-2004. He lives in Westport with his wife and three children.
Recent Stories

For a Schroon Lake graduate, the dream came true this past Saturday, May 2, as Travis Stone called the 141st annual running of the fastest two minutes in sports at Churchill Downs.

A vision created in 1990 is one hurdle away from becoming a reality, bringing new life to the pits and underground tunnels that put Mineville on the map.

A duo of Moriah Vikings led the way as several local athletes were named to the New York State Sportswriters Association's All State teams for the 2014-15 season.

Astasia Myler has excelled during her time as a member of the Minerva/Newcomb girls varsity athletic program. Following graduation this July, the three-time Times-Enterprise starter will look to excel at the next level, as she recently signed to play softball at Division II College of St. Rose.

Wincowski three sends Warriors up Rte. 9 champs
In the Class C Championship game March 21, that spotlight fell to the on-court leader of the Lake George Warriors in a 53-50 title win against Waterville.

The edge went to the down-towners, as the Warriors hit on 11 shots from beyond the arc to score a 70-60 win over the Blue Devils and advance to the Class C title game for the second time in three years.

Taking college course during sr. year, she has been accepted into Siena/Albany med program
The Minerva student actually doesn't even take classes at Minerva Central School, instead taking her first year of general studies at SUNY Adirondack.

Section VII crowned three champions in girls basketball March 6.

While the "Splash Brothers" of the NBA reside in Oakland, Calif., the Splash Brothers of Section VII hang their hats in Long Lake.

Once again, the game between the Keene Beavers and Schroon Lake Wildcats came down to a scoring run.