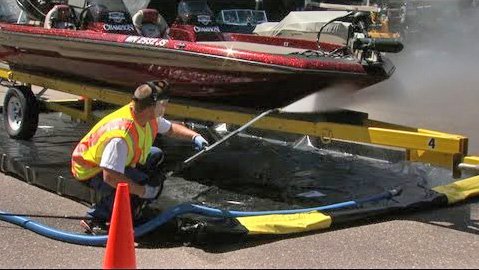 To eliminate traces of foreign plants and creatures speedboat is pressure washed at high temperature before it is launched. To curb the threat of invasive species including Asian clams, two panels of Warren County Supervisors voted last week to draft a law that would require mandatory inspection — and decontamination if necessary — of boats before they are launched in county lakes and ponds.
Stories this photo appears in:

With the state balking on taking action to curb the ever-growing spread of invasive species threatening the ecology of its lakes and ponds, Warren County leaders decided to take action — they voted to draft a law mandating that boats be inspected, and decontaminated if necessary, before being launched in the county's waterways.