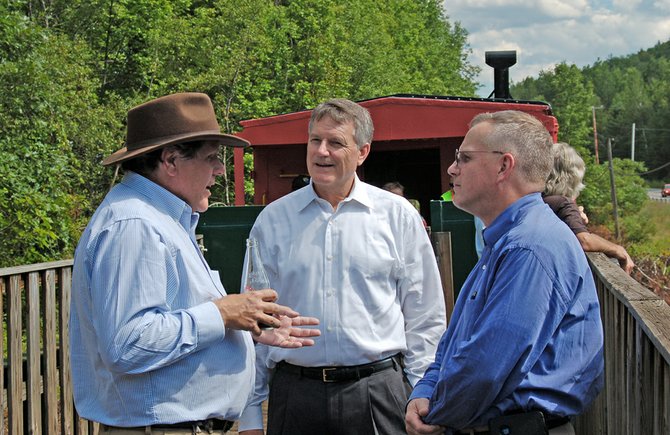 A small group of VIPs takes the historic train ride on the Saratoga & North Creek Railway's Sanford Lake Branch Wednesday, Aug. 8 from North Creek to the Barton mine processing plant in North River, a total of 6 miles. The railway is re-establishing freight service along these tracks, which had not been used since 1989 when the Tahawus mine closed. From left are Ed Ellis, president of Iowa Pacific Holdings, Inc., Charles Bracken, Jr., chairman, the Barton Group; and Brian Barnoski, operations manager at the Barton mine.
Stories this photo appears in:

Freight train service was discontinued on the tracks between North Creek and the town of Newcomb in 1989, when the Tahawus mine shut down. But that all changed Wednesday, Aug. 8 when the Saratoga & North Creek Railway opened 6 miles of track to North River.