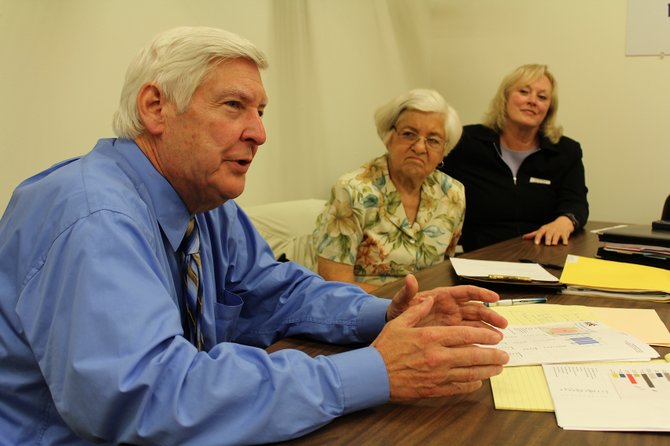 WARRENSBURG — The area's top leading guru on economic development told Warrensburg officials this week that job creation and prosperity depends on thinking regionally, having up-to-date infrastructure in place and cooperating with other municipalities and government agencies.
Ed Bartholomew, Warren County EDC President met with town of Warrensburg government and community leaders Aug. to discuss prospects for economic development in town — and to update them on ongoing efforts to spur the local economy.
Barrtholomew said that out-of-state enterprises were interested in building a wood-pellet manufacturing plant in Warrensburg or Chester, and he had met with officials of one of the firms, along with representatives of state agencies involved in permitting such a new operation. He said that the company in question was seeking to build a plant that would employ 20 to 25 people and have a $20 million annual impact on the area.
Regardless of what town such an enterprise locates in, residents of the region will benefit because of the jobs and the additional money circulating locally, he said.
Such a regional mindset is particularly appropriate in boosting tourism, as vacationers typically seek many activities throughout the area, he said. Bartholomew noted that a tourism summit among executives of the major area attractions, tourism-related entrepreneurs and community leaders, is scheduled for Oct. 30.
"We have to think regionally and work together," he said. "Tourists know they like the area, without knowing the particular town they are in at any point."
Bartholomew also praised the Saratoga-North Creek Railway officials for pursuing new deals to haul freight.
"The railway is a good example of all the great assets this region has," he said.
He said that ideas now circulating for enhancing tourism in the region include developing tours of historic sites as well as galleries and artists' studios — which are plentiful here, Bartholomew said.
(Continued on Next Page)
Prev Next
Vote on this Story by clicking on the Icon