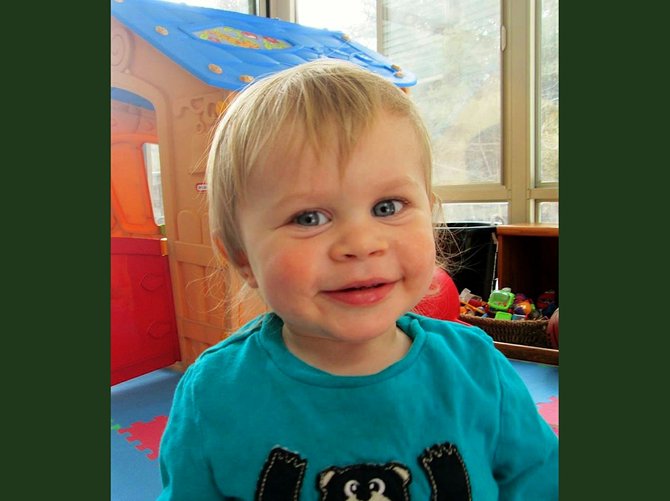 CHESTERTOWN — Dozens of local people are reaching out this week to help the family of a toddler who's hospitalized and clinging to life.
Cameron Kuba, about 21 months old, is afflicted with spinal meningitis and receiving care at Albany Medical Center.
His parents, Gabrielle and Randy Kuba of Chestertown, have been staying with Cameron during his treatment and providing emotional support, according to family friend Jessica Phillips, also of Chestertown.
Meanwhile, many people in northern Warren County are helping the family out with medical and living expenses while the Kubas tend to their young child who is in critical condition.
Saturday April 12, Cameron underwent surgery — having a portion of his skull removed to relieve pressure on his brain, Phillips reported. As of the evening of April 14, the youngster was stable condition after an adjustment in treatment that reduced brain swelling, Phillips reported.
"Cameron has a very long road ahead of him," she said. "And his parents have been very distraught."
Phillips knows well the angst the family is experiencing. In 1998, her one-year-old toddler Cody was stricken with encephalitic meningitis and died, she said.
Phillips reported that Cameron started showing flu-like symptons at about the end of March, and the Kubas took the child to the doctor, and he was sent to Glens Falls Hospital, where a spinal tap indicated he had spinal meningitis. During the first week of April, Cameron was transferred to Albany Medical Center where he underwent a second spinal tap and blood transfusions, Phillips said. She noted that the doctors discovered bleeding in Cameron's brain.
Meanwhile, the Facebook page "Care for Cameron" has been set up to raise money to meet the Kuba family's expenses while Gabrielle and Randy are away from their regular employment and tend to Cameron's needs.
Gabrielle works for her mother's beauty shop, the Susan Brand Salon in Chestertown. Randy works for Eric & Eric Construction in Brant Lake. Gabrielle's father, Joe Brand, runs the container recycling enterprise All Brands Redemption Center of Chestertown.
(Continued on Next Page)
Prev Next
Vote on this Story by clicking on the Icon