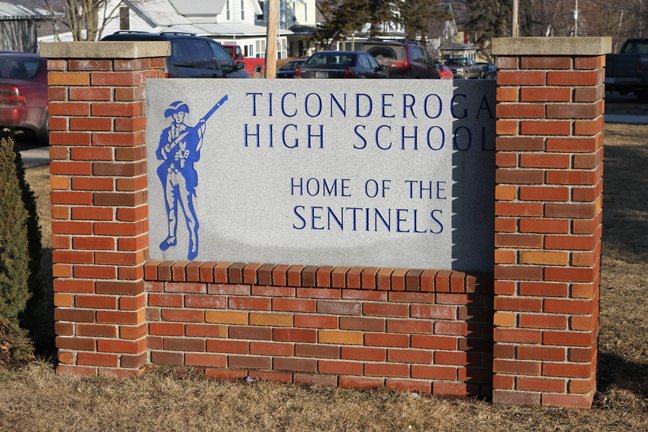 Ticonderoga — Ticonderoga High School has again been ranked as one of the best in the nation.
Ti High was awarded a silver medal by U.S. News and World Report magazine in its annual ranking of the country's best schools.
It's the fourth straight year the school has been honored.
"Even though this identifies our high school, it is a K-12 effort," John McDonald, Ti school superintendent, said. "I am very proud of our staff and students. Amid all the fiscal challenges, our people are committed to do whatever it takes to provide a quality program with high expectations. I congratulate them for working hard and continuing to focus maintain high expectations for achievement."
Schroon Lake Central School received a bronze medal. It also received a bronze medal last year.

More than 21,000 public high schools were evaluated for the report with 4,318 cited. Only the top 500 received gold status. Schools were rated based on state assessments and college readiness as measured by student success in Advanced Placement and other college-prep programs. The report can be found online at www.usnews.com/best-high-schools/features/bhs-homepage.
The School for the Talented and Gifted in Dallas was rated the best school in the country. The Brooklyn Latin School was rated as the best in New York and 21st in the nation.
According to the U.S. News report Ticonderoga High School is the 118th best school in New York State with 97 percent of its students proficient in math and 97 percent in English. Ti ranked as the 1,169th best high school in the land. More than a quarter of Ti students have passed Advanced Placement exams.
Ti High was ranked 228th in the state last year with 95 percent of its students proficient in English and 94 percent in math.
Schroon Lake had 100 percent proficiency in math and English. Bronze award winners were not ranked, but listed alphabetically.
U.S. News and World Report worked with American Institute for Research, a Washington-based organization, to create the rankings.
High schools were judged on overall student performance on state standardized exams and on the performance of students who are black, Hispanic and come from low-income homes.
Student performance on Advanced Placement and International Baccalaureate exams were also used to determine how well schools prepared students for college.
Vote on this Story by clicking on the Icon