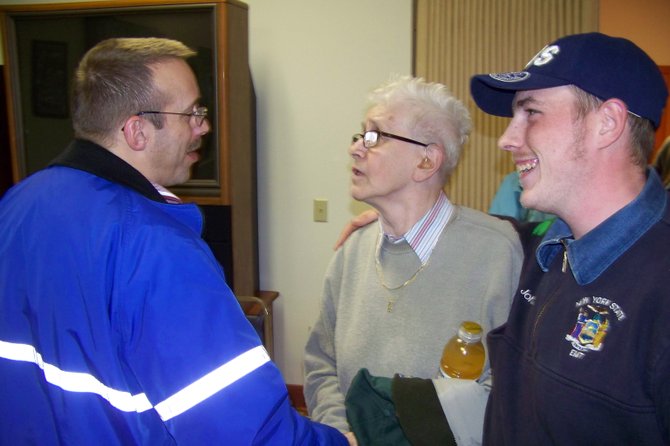 ATHOL — The Thurman ambulance squad, struggling for survival since recently losing its annual subsidy from the town board, is now on the verge of dissolving, the agency's top officer said Tuesday Jan. 29.
Thurman Emergency Medical Services President Jean Coulard said the squad's board of directors had been polled Monday night and five of the seven had agreed to liquidate assets to pay remaining bills, quit operating, and shut down their agency. A formal meeting was scheduled to take place Tuesday night to formalize the decision, she said.
"I'm getting the paperwork together now to dissolve the corporation," Coulard said mid-Tuesday, noting that the financial support from the town had been vital to the agency's ability to operate.
"For all intents and purposes, we're closed — There's no money left," she said. "It's very sad that the squad is falling by the wayside," she said. "We've done what we can — and the town board's been so unresponsive — but you can't fight city hall."
Coulard said that Thurman EMS would likely stop operating entirely in a matter of days. She said that in the meantime, ambulance calls would be answered only if a qualified volunteer staff member was in the station or nearby. For much of Tuesday, the station was unmanned.
"If a driver and an EMT is there we'll respond — it will be hit-and-miss — but 70 to 80 percent of the time, we're not now staffed to respond," she said. "Warrensburg EMS will have to pick up our calls — it's a sad situation, considering the extra time it takes them to get up here."
Robert Farrell, the Board of Directors Chairman of Warrensburg Emergency Medical Services, said officials of his agency have been talking with Thurman squad officers recently about the possibility of acquiring the assets of the Thurman squad — their relatively new ambulance, EMS equipment and their squad building on High St.
(Continued on Next Page)
Prev Next
Vote on this Story by clicking on the Icon