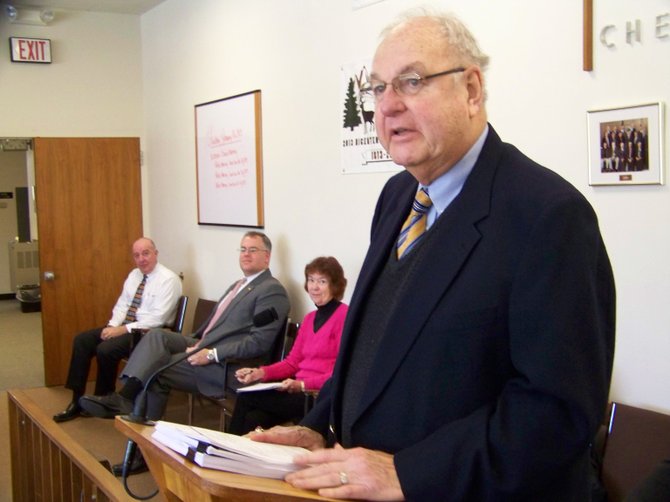 LAKE GEORGE — A towering casino with many thousands of gamblers streaming into Lake George Village for a quick profit and glitzy entertainment is a concept again in the limelight.
County and local municipal officials have renewed talk of studying the regional impact of casino gambling, following Gov. Cuomo's recent speech suggesting that three destination casinos could be located upstate.
Lake George Mayor Blais lobbied the Warren County Supervisors Jan. 18 to jointly sponsor a study of casino gambling and its consequences.
"The gambling train is coming through Warren County, and we can sit and watch it go by, or we can consider it and get on board if we so decide," Blais told county supervisors at their January board meeting.
He said that potential impacts of hosting a casino — including employment opportunities, family life, household income, housing, crime and law enforcement, sales tax revenue, environmental and infrastructure concerns — should all be thoroughly studied.
"We need to be equipped to make intelligent decisions, because the potential revenue and income is enormous," he said.
Glens Falls Ward 5 Supervisor Bill Kenny suggested that before Warren County fund a study, which might cost $25,000 to $75,000, that county officials determine whether lake George indeed has viable prospects to be named as a site, considering that nearby Saratoga Springs is a top upstate candidate.
"I'd like some assurance first that we're in the hunt," he said.
The other county supervisors agreed with his suggestion.
County supervisors asked state Assemblyman Dan Stec of Queensbury to inquire among state officials about Lake George's prospects as a casino location.
Blais suggested that a steering committee of local citizens, business owners, municipal leaders and Chamber of Commerce officials be formed to spearhead consideration of a casino in Lake George.
New Board of Supervisors Chairman Kevin Geraghty proposed that the county Occupancy Tax Committee consider the idea of co-sponsoring a study on casino gambling — and that bed tax money might be allocated to bankroll it.
(Continued on Next Page)
Prev Next
Vote on this Story by clicking on the Icon