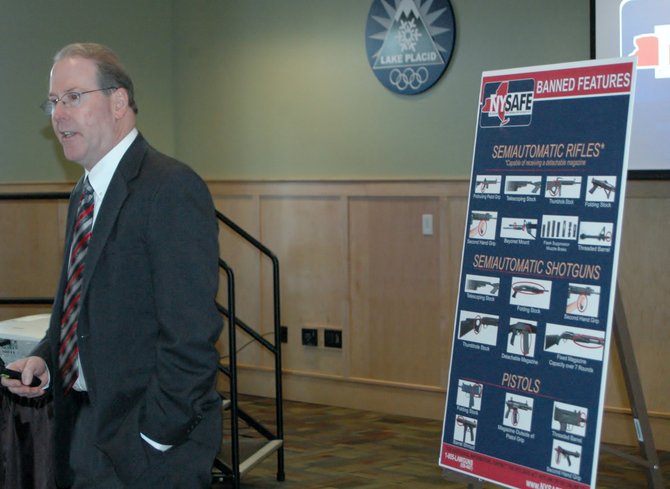 Lake Placid — Members of the New York State Police were in Lake Placid Jan. 29 not to talk about the why of the the newly enacted SAFE Act, but the what.
NYSP Col. Tom Fazio, Assistant Council Kevin Bruen and Senior Investigator Joe DeMaria addressed media and over 50 who attended the SAFE Act public information meeting at the Lake Placid Conference Center.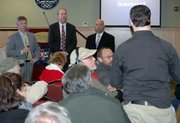 The trio said that they were not there to debate the rationale behind the law.
"I have never voted on a piece of legislation," Bruen said. "That is the legislature's job, it is the Governor's job to sign the laws and then it falls on us to make sure that people understand and are following the law."
"We are here to present the law and let everyone know what the law says," Fazio said. "Any time that there is a new bill that leads to new laws, there are going to be questions. We are here to inform and enforce the law. Those concerns about why the law was passed should be brought to the legislature and the Governor."
The three talked about the new law, including the timeline for when each piece of the SAFE Act would be put into place. The assault weapons ban went into effect when the law was signed earlier this month, while other parts will be instituted over the next year-plus.
On April 15 of this year, the registration process for all assault weapons begins along with the limit of seven rounds in magazines. Background checks for ammunition purchases and the need to discard, sell or permanently modify any magazine that can hold more than 10 rounds goes into effect Jan. 15, 2014. All assault weapons must be registered with the State Police by April 15, 2014.
Fazio said he felt SAFE would help law enforcement officials.
(Continued on Next Page)
Prev Next
Vote on this Story by clicking on the Icon