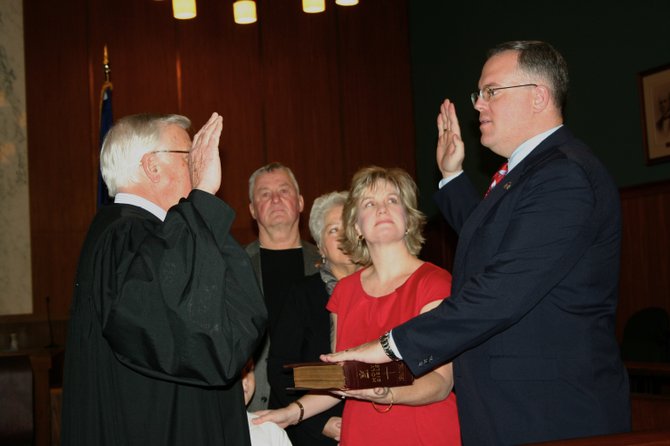 QUEENSBURY — After a formal but emotion-charged event held Tuesday Jan. 1, the lower Adirondacks region now officially has a new representative in state politics.
State Assemblyman Dan Stec (R-Queensbury), was sworn in Tuesday in a ceremony held in the Warren County courthouse.
About 120 people from across the four-county region that Stec now represents attended the event.
State Supreme Court Justice David Krogmann conducted the ceremony. As the judge administered the oath of office, he voiced a patriotic theme.
"Due to our democracy, we have the privilege to watch and participate in a smooth transition of power in a humble and quiet way," he said. "...With no shouting, no gunfire."
Stec's son Peter led the Pledge of Allegiance, voicing it without hesitation. Stec's wife Hilary, his parents George and Elsie Stec stood beside him as he was sworn in — a ceremony that was concluded with lengthy applause.
In a casual speech that followed, Stec said he'd dedicate his days to working diligently on behalf of his constituents.
"You have my solemn oath that I will work hard, I will be honest, I will be plain speaking, and I will do the best that I can for all of the state of New York," he said. "We're facing difficult times, and we need to make sure we all work together on important issues — and if they're not important, we must set them aside."
Stec continued that he was going to concentrate on advocating decisions that yield positive results for local citizens.
"We're going to roll up our sleeves and get this state moving down a better path," he said.
Stec said he was "floored" by the turnout of friends, family and community leaders throughout his 114th Assembly District, which includes all of Warren and Essex counties and portions of Saratoga and Washington counties.
(Continued on Next Page)
Prev Next
Vote on this Story by clicking on the Icon