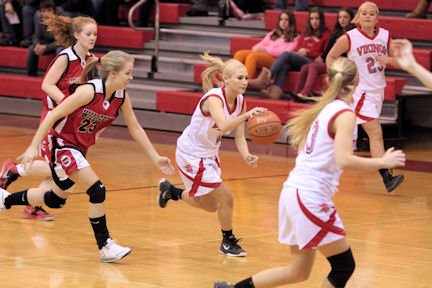 The AuSable Valley Patriots punched their ticket to the Section VII/Class C championships game Feb. 22 at Plattsburgh High School, but in a much less dramatic fashion then the Ticonderoga Sentinels.
Trailing by six at 52-46 with less than a minute to play against Northern Adirondack, the Sentinels went to work, with Ty Denno driving to the basket followed by a Michael Graney three-pointer to make the score.
After NAC made a free throw, the Sentinels had their last shot, and the ball found the hands of Eric Nielsen, who connected on a three-pointer with less than 10 seconds remaining to seal the 54-53 victory for Ticonderoga.
Graney finished with 22 points for the Sentinels, while Nielsen scored 11 points, Anthony Dushane eight, Mark Donohue four and Riley Chapman two.
In the nightcap at PHS, AuSable Valley used a 16-9 opening quarter and a 17-5 closing eight minutes to score a 58-39 win against Seton Catholic.
Shane Douglas led the Patriots with 16 points, while John Goodnough added 15, Austin Depo nine, Brandon Brooks eight, Austin Facteau four, Nate Casey four and Zach Cosgrove two.
The Sentinels and Patriots will meet in the Class C Finals Saturday, March 2, at 1:45 p.m., at the Plattsburgh State Fieldhouse.
Class D boys
The second seeded Moriah Vikings jumped out to a 32-16 lead over Wells in the Class D quarterfinals, leading to a 60-41 win Feb. 22.
Jessup Calkins scored 13 points to lead the Vikings, while Adam Jaquish scored 10, Derek Brassard 10 and Mike Mero eight.
The Vikings will play third seed Elizabethtown-Lewis Wednesday, Feb. 27, with a 6 p.m. tip at AuSable Valley High School.
However, the season ended for the fourth seeded Crown Point Panthers, who fell behind 26-10 at halftime en route to a 46-26 loss against the Chazy Eagles.
(Continued on Next Page)
Prev Next
Vote on this Story by clicking on the Icon