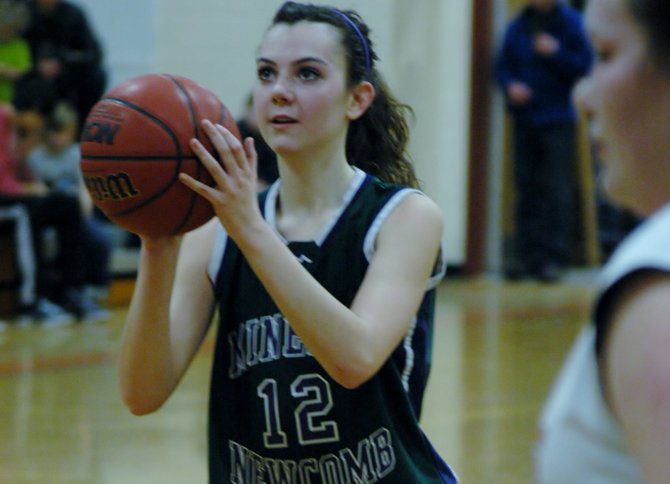 Keene Valley — The Minerva/Newcomb Lady Mountaineers have looked to push the ball and be aggressive every chance they get during the 2012/13 season.
On Feb. 22, they used their fast-paced style of play as the fifth seed to score a 46-37 win over the fourth seed Keene Beavers.
"It has always been our plan to be aggressive and attack," Mountaineers head coach Bruce McGinn said. "The execution of our press was important. We play three presses, and our 2-2-1 worked better in the second half."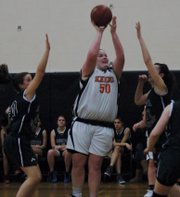 The Mountaineers held the Beavers scoreless for almost nine minutes in the second half with their press and attacking style on offense, which led to Sadie Holbrook, Hannah McCabe and Tucker Geieger fouling out for Keene.
"We started off breaking the press but when we started to have problems with the press, it rattled the them," Keene head coach Brian LaVallee said of his team. "Sadie did her best to push the ball for us."
"The Keene girls played well, and our goal was to go at them high-speed," McGinn said.
LaVallee said that the pressure led to both players fouling out and turnovers on Keene's part.
"We had 24 turnovers and we had the second string playing for much of the second half because of foul trouble," he said. "I thought for that group, though, they held them pretty well."
Keene held a 15-6 lead after the first quarter and were ahead 21-10 before the Mountaineers cut the lead to 23-15 heading into halftime. With the score 29-24 Keene midway through the third period, the Mountaineers scored the next 18 points until Tucker Geieger followed in an offensive rebound with 3:35 in the final quarter for the Beavers, giving Minerva/Newcomb a 42-31 lead before closing the game out.
The Mountaineers were led by Makenzie Winslow, who scored 19 points to go with four rebounds and six steals.
(Continued on Next Page)
Prev Next
Vote on this Story by clicking on the Icon