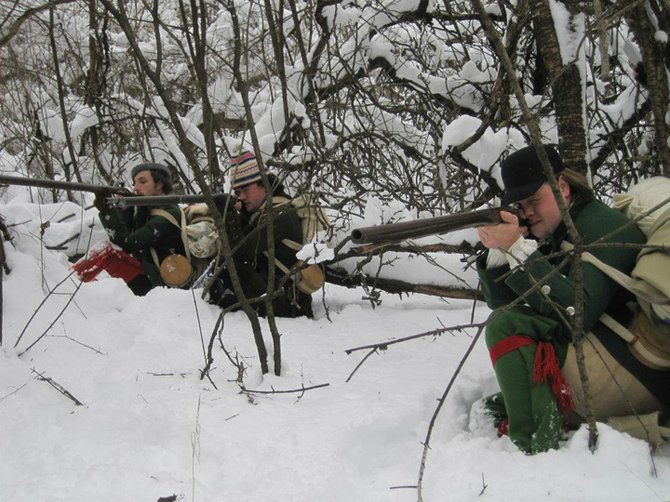 Ticonderoga — One of the most famous battles in military history will be re-enacted at Fort Ticonderoga this winter.
"The Battle on Snowshoes" will be held as a living history event Saturday, Feb. 23, 10 a.m. to 4 p.m. at the fort.
"The Battle on Snowshoes event recreates the savage fight between Robert Roger's rangers, and a mixed French force of regular soldiers, malice and allied native warriors on March 13, 1758," said Stuart Lilie, director of interpretation at Fort Ticonderoga. "This event is designed to be a rich experience for both participants and visitors alike. It will investigate the myths and facts of Robert Rogers and explore why his exploits in the North Woods still fill the popular imagination today."
Visitors will be able to see the French Garrison in the middle of winter inside Fort Ticonderoga and tour through opposing pickets of British rangers and French soldiers.
At 2 p.m. a tree-to-tree battle recreation will take place.
"Watch as the rangers make a brave stand against superior odds, only to retreat through the deep woods," said Beth Hills, Fort Ti executive director and CEO.
Event tickets are $10. Friends of Fort Ticonderoga and children age 4 and younger will be free. For more information call 585-2821 or visit www.fortticonderoga.org.
"Visitors will be invited to tour Fort Ticonderoga as it appeared in the winter of 1758 and meet the Native American warriors, French soldiers and Canadians, who delivered the rangers' worst defeat," Hill said. "See how Natives Americans and French soldiers alike survived the deep winter at this remote military post. More adventurous visitors can take a hike led by a historic interpreter through the uneasy quiet of opposed pickets of soldiers in the deep woods. In these tours visitors can see how rangers kept a vigilant watch for subtle signs that might reveal their ferocious enemy."
(Continued on Next Page)
Prev Next
Vote on this Story by clicking on the Icon