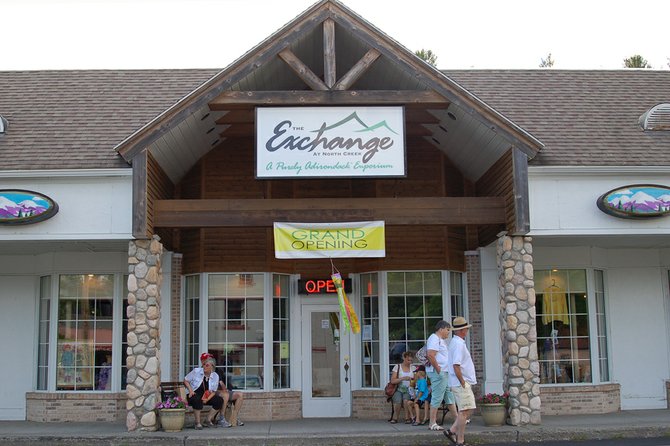 North Creek — Less than nine months after Iowa Pacific Holdings opened The Exchange at North Creek retail outlet here on Main Street, the store has closed.
Opening on Memorial Day weekend and celebrating a grand opening on June 30, 2012, The Exchange locked its doors for the last time on Wednesday, Feb. 6, according to full-time manager Lisa Cameron, who lost her job along with two others (one part time and one full time).
The Exchange was a local artisan store, filling the space left vacant at Village Square plaza by the former Mountain and Boardertown ski shop. More than two dozen local artists and crafters were consigning their work, including original paintings, prints, woodwork, fiber arts, books, maps and a variety of crafts.
Contacted by phone on Feb. 13, Cameron thanked the railroad for the opportunity, the store's artists who sold items and her customers.
"When the railroad came into town and saw all the empty spaces, they wanted to do something for the good of the community," Cameron said. "And it started out as a community project. The focus for the future was for somebody in the community or a group of community members to take over The Exchange. And nobody was really stepping up to the plate to do that."
To help stimulate that community involvement, the railroad set up a seven-member board to direct the retail operation.
And despite a fickle economy and unpredictable flow of tourists, The Exchange was growing its customer base, according to Cameron. The main problem was the overhead costs were too high, specifically the rent, she said.
A year ago, the shop was undergoing a transformation, paid for by Iowa Pacific, the parent company of the Saratoga & North Creek Railway, which began passenger service between North Creek and Saratoga Springs in 2011 and is currently launching freight service from Barton Mines in North River and the old Tahawus titanium mine in the town of Newcomb.
(Continued on Next Page)
Prev Next
Vote on this Story by clicking on the Icon