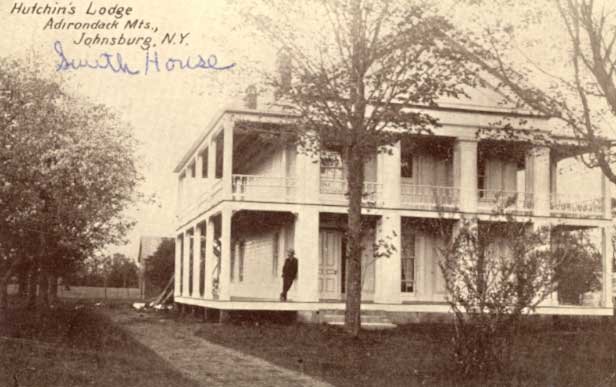 Presidents Day Program
Johnsburg Historical Society's annual Presidents Day program will feature a talk and power point presentation entitled "The Development of Architectural Styles in the Adirondack Region." Speaker Delbert Chambers will note the various styles of architecture in the region and touch on their evolution from the early 1600s. "Our architecture seems to be a widely overlooked asset and I hope to help promote an awareness of the buildings we see every day," said Chambers. The free program begins at 2 p.m. Monday, February 18 at Wevertown Community Center, Routes 8 and 28, Wevertown.
Mr. Chambers has designed and built homes, commercial buildings and studios, is self-studied in the history of architecture, and is president of the Johnsburg Historical Society. He has created a permanent architectural exhibit at Warrensburg Museum of Local History. Examples in the Warrensburg exhibit include: from the Classical Period, Greek Revival, Gothic Revival, Italianate; from the Romantic Period, Second Empire, Queen Anne, Shingle; from the Arts and Crafts Period, Bungalow, Craftsman, Four Square; from the Colonial Revival Period, Cape Cod; and from the Modern Period, Ranch. Many of these examples will be shown to support the program.
"The history of a community can be told from its buildings," notes Mr. Chambers, who will focus on architectural styles in the local area from late seventeenth century to the 1950s. He dubs the styles unique to this area as "Adirondackture." The buildings tell a story of a spirited people who built their homes and businesses in a frequently harsh environment softened by the beauty of the mountains, lakes and rivers.
The rugged terrain determined the type of architecture which would eventually become known as "Adirondack Style." Availability of native materials influenced the style as well, and features such as oversized timbers, native stone, twisting branches, earth tone colors and unpeeled logs became associated with "Adirondackture." Dwellings from the simple to the magnificent were constructed to harmonize with the landscape, a necessity in a mountainous area dominated by cliffs, rocks and boulders.
(Continued on Next Page)
Prev Next
Vote on this Story by clicking on the Icon