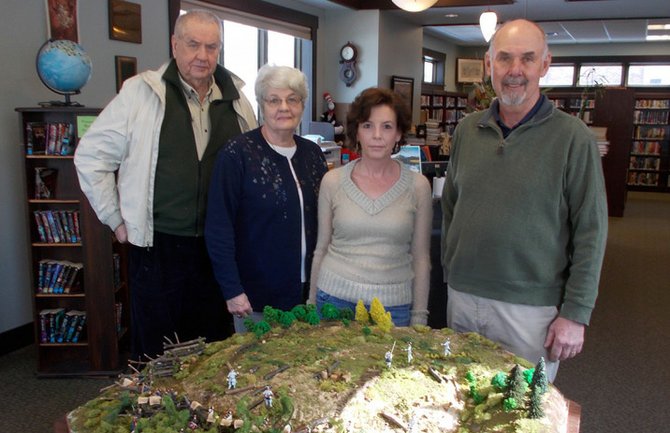 Ticonderoga — Visitors to the Black Watch Memorial Library in Ticonderoga often ask how the building got its name.
The answer now greets people as they enter.
A model of the Battle of Carillon has been placed at the Carnegie Street entrance to the library. It was during the battle the famed Black Watch Regiment was decimated.
"I think it makes sense to honor the Black Watch in this way," said Steve Boyce, library trustee. "We are the Black Watch Memorial Library."
The model was created by Denise Huestis, who also made 38 models that are on exhibit at the Ticonderoga Heritage Museum.
"The library board approached Denise and she graciously accepted the challenge," John McDonald Sr., library trustee, said. "She did a wonderful job. We're very pleased."
Approximately four feet square, the model depicts the French lines July 8, 1758, near Fort Ticonderoga. It shows French and British troops.
"It's as accurate as I could possibly make it," Huestis said. "I met with Chris Fox several times to be certain it was right."
Fox is the Fort Ticonderoga curator of collections. He served as an adviser on the project.
"While it may not be 100 percent accurate, it's a faithful representation of the battle lines," McDonald said.
The model, placed on a table donated by Don Paige, is now on display. There will be a "soft-opening" of the exhibit Saturday, March 2, when the library also hosts a quilt show. A formal opening is planned later this spring.
"We get a lot of questions about the Black Watch name, especially from visitors in the summer," said Heather Johns, senior library clerk. "This (exhibit) is a nice addition and will help explain our history."
In July 1758 the British army attacked the French at Ticonderoga, named Fort Carillon by the French, attempting to capture the fort and take control of the portage between Lake George and Lake Champlain.
(Continued on Next Page)
Prev Next
Vote on this Story by clicking on the Icon