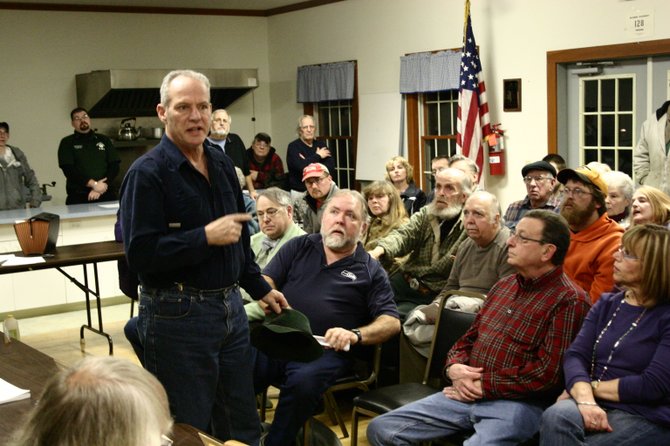 ATHOL — Faced with a crowd of 100 or more townspeople demonstrating support for the local independent ambulance squad, the Thurman town board defeated a motion 3-2 to allocate $62,000 to the Thurman Emergency Medical Services for local coverage during 2013.
During the meeting, more than a dozen people voiced their concerns to the board, asking them to support the squad financially. They contended that a locally-based squad would answer emergency calls faster, and unlike squads based elsewhere, would give top priority to local calls.
The lengthy town meeting was punctuated with passionate pleas, accusations, and angry outbursts, as well as cheers and standing ovations for people that expressed support for the local ambulance squad. The crowd was the largest in decades to attend a local town board meeting.
Town supervisor Evelyn Wood responded that she fully supported local EMS services, but she warned that adding its cost to property taxes would be too burdensome for many, particularly those on fixed incomes. Figures she's cited in the past indicate that funding the agency would hike local property taxes by 17 to 20 percent or more.
Board member Gail Seaman repeatedly proposed that the Thurman squad seek a merger with Warrensburg Emergency Medical Services. She said such an action would likely make the combined agency eligible for a $200,000 grant, noting that Warrensburg EMS already is responding to most of Thurman's calls — 60 of 89 for 2012.
"The two agencies should meld as a group for better coverage and provide Advanced Life Support," she said. "Is is better to have qualified, experienced people responding, or is it better to tax ourselves to oblivion?"
Her merger proposal was shouted down by the crowd, with people questioning whether the combined squad's Thurman-based ambulance would occasionally answer calls on the Northway or in Warrensburg, rather than being available for use in Thurman. Members of the crowd also questioned whether the Warrensburg Squad would need an annual stipend to cover Thurman, and if they did, why not invest the money in the Thurman agency which is comprised primarily of local people?
(Continued on Next Page)
Prev Next
Vote on this Story by clicking on the Icon