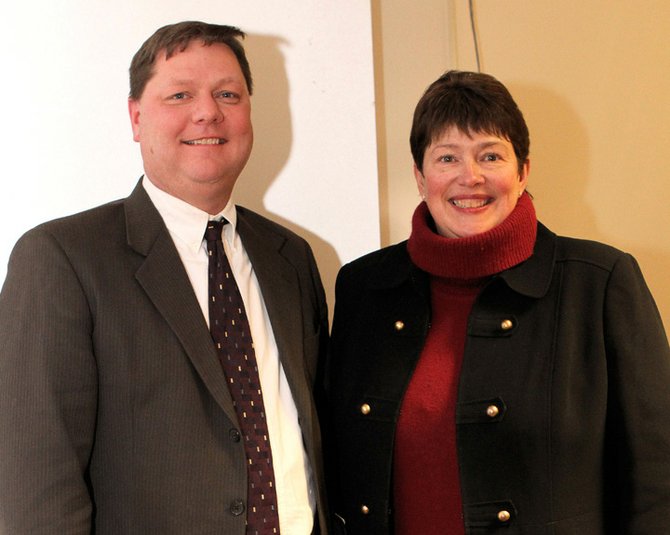 Ticonderoga — There are children who arrive at Ticonderoga schools this winter smelling of kerosene after sleeping next to a space heater trying to stay warm.
"We actually give them clothes to wear while we wash their clothing," John McDonald, Ticonderoga Central School superintendent, recently told state officials. "It's embarrassing for everyone, but it's the situation we find ourselves in. We have a lot of poverty."
McDonald made his remarks to Dede Scozzafava, deputy secretary of state for local government, while she was in Ticonderoga to make a state budget presentation. He urged Scozzafava and state officials to take greater action to alleviate rural poverty.
"There's a lot of attention focused on poverty in our state, but it's focused on urban poverty," McDonald said. "I submit that rural poverty is worse. We need to focus on rural poverty as much as urban poverty."
According to the New York State Community Action Association, 14.7 percent of Essex County residents live in poverty — 19.8 percent of children.
Nearly a quarter of Ticonderoga students — 23 percent — live in poverty. That makes Ti the 623rd poorest district in the state. There are 684 districts. Crown Point is close. It has a poverty rate of 22.4 percent and ranks 618th.
Ironically, Ticonderoga school district is considered the wealthiest in the region. That's because the state determines a district's wealth based on property values. With two lakes — Lake George and Lake Champlain — in the district Ti school district has high land values.
"There's a unique situation facing schools in the Adirondack Park and rural schools in general," McDonald told Scozzafava. "The state aid formula doesn't work for us."
And neither do most poverty programs, he added.
"Poverty is a problem everywhere, there's no denying it," McDonald said. "But a poor person in New York City can go to a shelter (for heat) or a soup kitchen (for food). Even poor kids can go to museums and libraries if they choose to. Our kids are isolated. They don't have those opportunities."
(Continued on Next Page)
Prev Next
Vote on this Story by clicking on the Icon