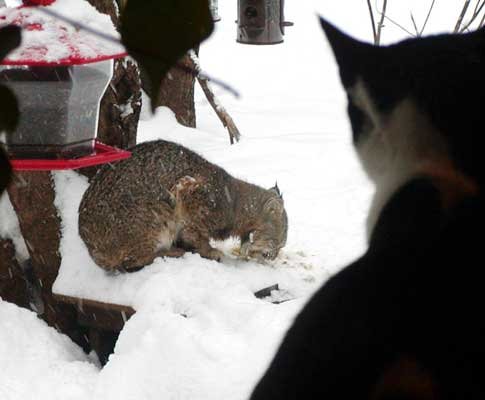 Fish, Birds and Cats
It appears the ice fishing season has begun in earnest, with a safe cover of nearly a foot of ice securing a majority of the region's lakes and ponds.
Recent reports from the inland lakes and ponds have been good, and fish have been on the take. However, angler reports from the Lake Champlain indicate times are still tough for smelt fishermen.
"We just aren't catching smelt like we used to," an old friend recently explained after a day on the ice near Port Henry. And obviously, he isn't the only one!
In recent years, many veteran, Lake Champlain 'smelters' have retreated inland from the Big Lake. They're now chasing smelt in places like the Saranacs, Tupper Lake, Schroon Lake, Blue Mountain Lake, Rollins Pond, Indian Lake and other such haunts.
Although numerous theories abound, there does not appear to be a single, definitive answer for the perceived lack of angling success for those targeting smelt on Lake Champlain.
However, several biologists believe a perceived decline in the smelt population is the result of two burgeoning populations of non-native species.
In recent years, the ever growing population of invasive, alewife has severely impacted the forage base of many species of 'pan fish' including smelt, perch and blue gills. There's no doubt the smelt population has been impacted by alewives through predation on eggs and fry, and competition for food sources.
The arrival of invasive alewife in the Lake Champlain ecosystem has already disrupted the established interactions of many native species due to overlaps in habitat range, breeding capacity and competition for a shared forage base.
However, many anglers believe that another, non-native invader has played a much greater role in reducing the lake's supply of smelt, perch and other pan-fish.
First spotted on Lake Champlain in 1981, cormorants have been establishing rookeries on the lake's islands ever since.
Joe Hackett is a guide and sportsman residing in Ray Brook. Contact him at brookside18@adelphia.net.
(Continued on Next Page)
Prev Next
Vote on this Story by clicking on the Icon