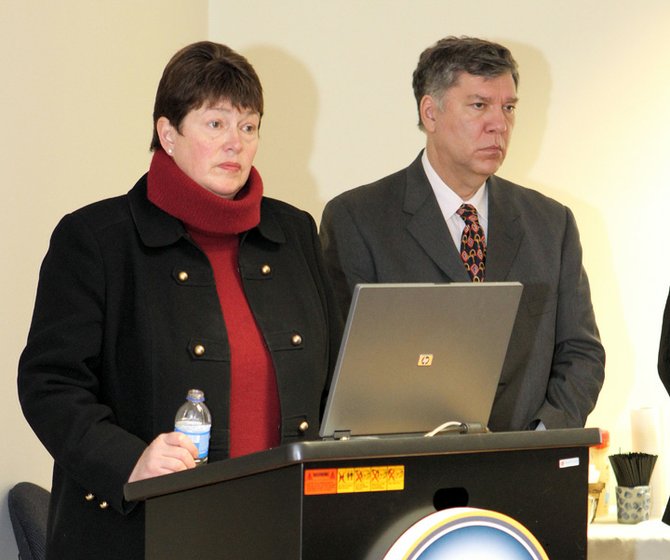 Ticonderoga — Although several people took issue with specific policies, area residents seemed pleased with the proposed 2013-14 state budget following a presentation in Ticonderoga Jan. 31.
Dede Scozzafava, deputy secretary of state for local government, outlined the governor's spending plan for about 40 people at Ti's North Country Community College campus. The gathering included elected officials, school administrators, business leaders and others from Ticonderoga, Hague, Putnam, Crown Point and Moriah.
"I'm a life-long Republican, but I have to admit I'm pleased with the governor and his budget," said Jim Major of Ticonderoga, a local businessman and chairman of the Ticonderoga Revitalization Alliance. "I think he's doing a great job."
Gov. Andrew Cuomo, a Democrat, has proposed a $136.5 billion budget for the next fiscal year. That's an increase of $2.5 billion, 1.9 percent, from 2012-13. The budget closes a $1.3 billion deficit without adding any new taxes.
"New York State certainly faces a lot of challenges," Scozzafava said. "Irene and Sandy (damaging storms) added to our problems, but we're going to rise out of this. We'll build back — and build back better."
Scozzafava said the governor's budget proposal has five primary goals:
— to create good-paying jobs and spur economic development;
— to maintain fiscal integrity and discipline;
— to create a world-class education system;
— to restore New York as the progressive capital of the world; and
— rebuild after Superstorm Sandy, which devastated the New York City area.
The proposed budget contains a lot of good things for the North Country, Scozzafava said. She pointed to a proposed Adirondack Challenge whitewater rafting competition aimed at attracting attention and tourists to the region. She also noted the continuation of the Regional Economic Development Council program, which has funded several major projects in the North Country.
Scozzafava also touted a 4.4 percent increase in state education spending. While that's true across the state, the results are mixed locally. In initial state aid projections Crown Point Central School is to get a 5 percent increase, while Moriah gets 2 percent and Ticonderoga 1 percent. Putnam school is cut 34 percent and Schroon Lake is cut 6 percent.
(Continued on Next Page)
Prev Next
Vote on this Story by clicking on the Icon