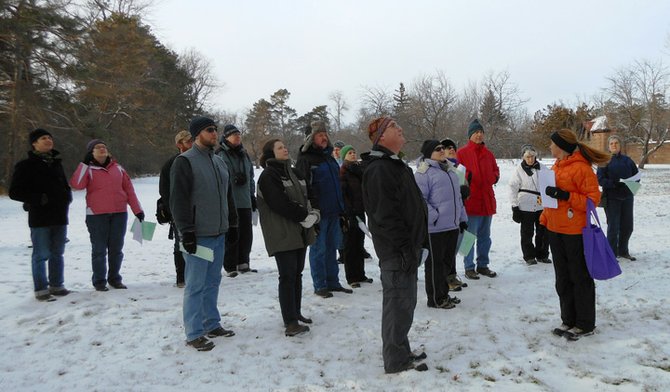 Ticonderoga — People will have an opportunity for a unique look at Fort Ticonderoga.
The fort will host "Exploration on Snow Shoes: A Timeline of Trees on the Pavilion Grounds" as part of its Fort Fever Series Sunday, Feb. 10, at 2 p.m.
Heidi Karkoski, the fort's director of horticulture, will lead the trek.
The cost is $10 a person and will be collected at the door. It is free for members of the Friends of Fort Ticonderoga.
"The landscape around Fort Ticonderoga evolved from a thickly-wooded peninsula before the fort was built, to a battlefield cleared to defend the Heights of Carillon and the waterways surrounding it, and included vegetable gardens to supply occupying troops with fresh provisions," Karkoski said.
"Throughout the centuries, some areas were allowed to be reclaimed by nature, and others were changed for either utilitarian or leisure purposes," she said. "Since the 18th century uses as varied as pasture, deer park, golf course, orchard, victory garden, country estate, working farmland, and formal garden have combined to form a rich history of landscape use. While many of these features have changed, some of the old trees on the grounds have endured and still cast a shadow over the evolving landscape."

Participants will be able to tour the Pavilion grounds on a winter's afternoon and learn about the ornamental tree species, the age of the trees and how they were incorporated into the landscape design over the past 150 years. Historic photographs will be used to illustrate the past while touring the notable trees of today.

Participants must provide their own snowshoes. In the case of inadequate snow cover, winter hiking boots should be worn. People are reminded to dress for weather conditions.

Participants should check in at the Deborah Clarke Mars Education Center by 1:45 p.m.. The gate opens at 1:15 p.m. for the program.
Additional programs in the Fort Fever Series are schedule for March 17 and April 21. Visit www.fort-ticonderoga.org for more information.
Vote on this Story by clicking on the Icon