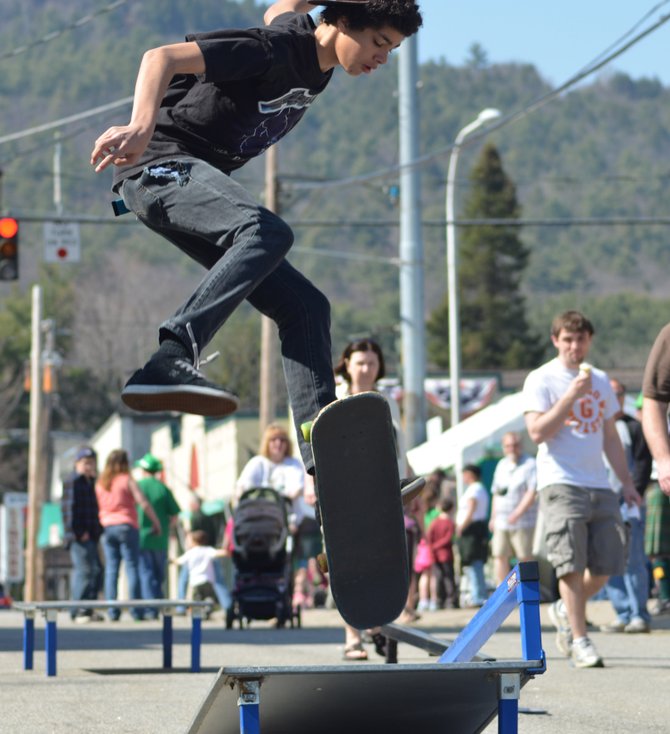 LAKE GEORGE — A legal dispute which pitted two local skateboarders against a Lake George business owner was featured in a Tuesday Sept. 11 episode of the Judge Judy show.
Frankie Cavone of Lake George, a skateboarder who has been working for years to establish a local skateboard park, appeared in a Judge Judy showdown in which Gerald Bongiorno, owner of the Hawaiian Shaved Ice kiosk in the Village Mall, sought nearly $3,000 in compensation from Cavone and his skateboarding friend Chris Brauser of Warrensburg for alleged vandalism.
A gathering to watch the skateboard lawsuit episode occurred at Tuesday afternoon at the East Cove Restaurant. Hors d'ouvres were available for $5, and the proceeds were donated to skateboard park development.
Cavone said the legal saga began March 18, when he and Brauser were skateboarding at the lakeside entrance to the mall, and saw what appeared to be an abandoned, weathered picnic table, and they decided to place it against the mall's steps to use it as a skate ramp. Cavone videotaped the aerial skate stunts for a graphics project and posted it on YouTube. A Lake George High School graduate, Cavone is a student at Hudson Valley Community College, concentrating in video production and broadcasting.
The table belonged Bongiorno's business. Bongiorno sued in Lake George Town Court for several hundred dollars in damages to the picnic table, Cavone said.
Cavone and his mother, Tina Cacckello, said Bongiorno contacted the Judge Judy Show producers, and they decided to take on the case, transferring it from town court.
Cavone, Cacckello, Brauser and Bongiorno were flown out to Los Angeles for the filming of the show — at the television production company's expense.
Cavone said that during the taping of the episode, he mentioned his work to establish the Lake George Skateboard Park, now nearing construction in the Charles Wood Park.
(Continued on Next Page)
Prev Next
Vote on this Story by clicking on the Icon