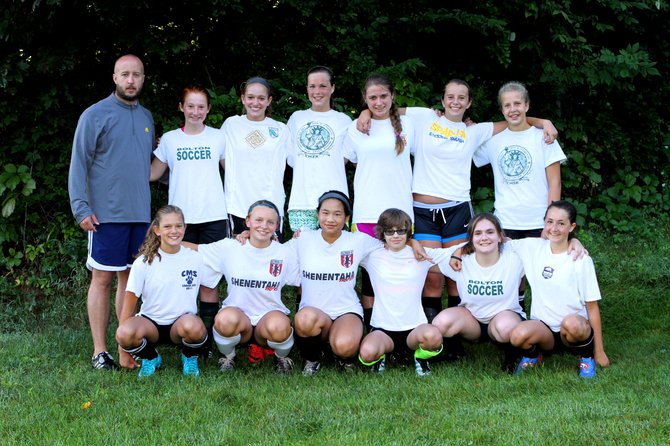 BOLTON LANDING — Traditionally, as sports seasons start, news reporters hear countless coaches voice a common cliche as they talk of their teams' prospects.
"It's a rebuilding year," they say, lamenting the loss of a lineup of stars to graduation.
But while the Bolton High School Girls Soccer team lost no less than seven 2011 seniors to graduation, coach Patrick Morency didn't utter the trite phrase this week.
He's got an experienced roster returning, including some athletes who have achieved regional acclaim.
Among those returning is Olivia Seamans, a sophomore who is a three-time Adirondack League All-Star and a two-time Section II All-Star. She'll be taking on the role of lead forward attacker, scoring a lot of goals for the team, Morency said. Seamans was the top scorer for the team in 2011.
"Olivia is a really gifted athlete," he said. "She's got a lot of speed and its deceptive how strong she really is."
Morency added that Seamans invests a lot of time in soccer camps and plays travel-team soccer off-season.
Joining her on the team is her sister Abbie Seamans, who was a league All-Star as a 7th grader playing Varsity in 2011.
This duo will be joined by Senior Sydney LaPan, a five-year Varsity player who's a talented defender, as well as three-year Varsity starter Kim Wright who is so versatile she can battle at virtually any position, but she'll likely spend most time as a midfield defender, Morency said.
Then there's Sophomore Sarah Calzada, who in 2011 was awarded honorable mention league All-Star. She played every minute of every game last season, and is talented at controlling the midfield, Morency said.
"Sarah's a workhorse soccer player," he said. "I can always count on her."
The roster of talent is even deeper.
Freshman Erin Courtney, who also won a league All-Star title in 2011, is returning as well.
(Continued on Next Page)
Prev Next
Vote on this Story by clicking on the Icon