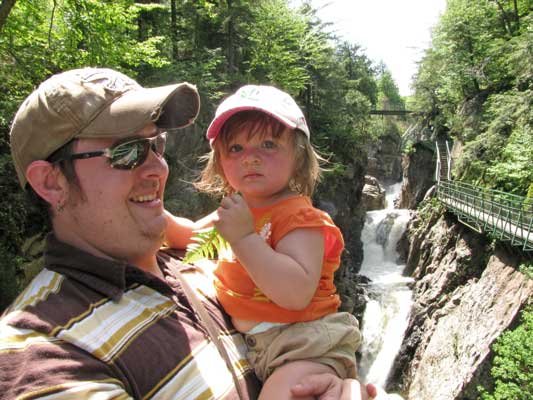 When 2-year-old Danika Parent was faced with a 50-foot-high waterfall, she turned to the stone wall behind her and began inspecting a tiny rock fern, common polypody, that was growing from a crack in the gorge. The plunging torrent, which commonly causes a spectator traffic jam along the High Falls Gorge's trails, did little to impress her, but the possibility that a tiny plant could have caused the rock to split intrigued her.
The fern wasn't responsible for the crack, of course—that honor probably goes to frost wedging, a process in which the expansion of freezing water causes rocks, pavement and sidewalks to crack over time. Danika's interest in all things natural wasn't deterred by this reality, though. She spent the rest of her journey through the gorge admiring wildflowers growing along the trail's edge, stomping after toads as they hopped for cover and investigating the sources of various chirps and tweets, all the while casually dismissing the white-capped water so many others had paid to see.
When Danika's father, Andrew, invited me to join them on this little adventure, I was admittedly hesitant to accept. I used to wonder why anyone would go to a place like High Falls Gorge in Wilmington or Ausable Chasm in Keeseville when all one has to do is hike 6 miles to Indian Pass to see a gorge, or do the 8-mile loop from the Ausable Club to take in half a dozen waterfalls.
The answer is simple: Not everyone can get to such places, but that doesn't mean they don't want to.
While exploring High Falls Gorge with Danika and Andrew, I saw people who had issues walking, elderly folks who needed the security of the handrail and parents who had several children to keep track of. While I could argue that most kids can handle the rigors of a trail through the deep woods, not every parent is equipped to bring them there, and there are some whose physical condition simply does not allow for such an endeavor.
Shaun Kittle is a reporter at Denton Publications and an avid outdoor enthusiast. He can be reached at shaun@denpubs.com.
(Continued on Next Page)
Prev Next
Vote on this Story by clicking on the Icon