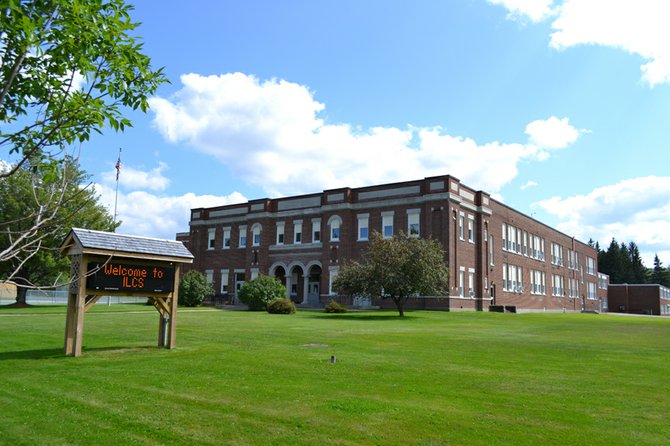 Indian Lake — In a meeting dominated by updates on the ongoing construction project at the Indian Lake Central School, board members Tuesday, Sept. 18 were faced with spending up to $100,000 more than expected to clean up asbestos from the school.
Mari Cecil, of the Bernier Carr Group, the engineering firm on the project, presented the board with estimated costs to mitigate and clean up the surprise asbestos discoveries in a number of areas of the school. She said it would cost about $200,000.
A number of scenarios for funding the asbestos mitigation and removal had been suggested by the district's counsel and fiscal advisor. Cecil presented these alternatives to the board. The $200,000 figure represented three-quarters or more of the amount currently in the district's general fund.
After considering their options — and citing the threat to the health and safety of students, staff, occupants and visitors to the school — board members passed an emergency resolution for funding not to exceed $100,000 to mitigate and clean up two areas key to school operations: the records room and the area beneath the science room.

The remaining areas of asbestos discovery would be safely sealed until the final cost of the initial mitigation is known and funding can be identified for cleanup.
Upon questions from Mr. Harrington, Board Vice President, Ms. Cecil informed the board that administrative time costs incurred by her firm and associated with the surprise discoveries were being absorbed in an effort to contribute to cost containment on this project and out of a sense of partnership with the district and the local taxpayers
In a post-meeting discussion, Mark Brand, School Superintendent, made the point that everyone involved is doing their best to deal with this surprise issue within the realities of available funding and the complications of the 2 percent tax cap. Brand and the rest of the board see the emergency resolution as a means to get the most critical areas mitigated while the project continues, allowing true overall project costs to become better defined. He pointed out that this is a means of serving the best interest of the students, staff and taxpayer while moving the project to completion.
(Continued on Next Page)
Prev Next
Vote on this Story by clicking on the Icon