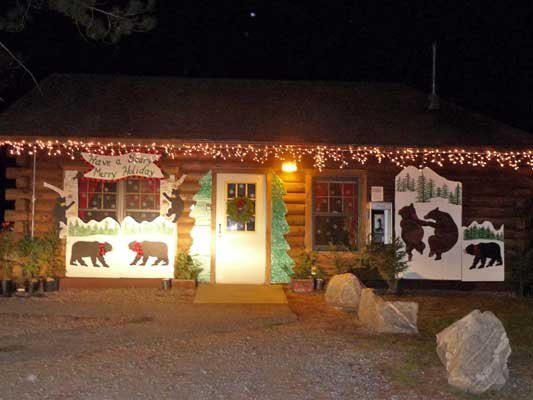 One of my favorite Thanksgiving traditions is when a family will be at the table and they go around and each will say something they are grateful for. So much so, I think I will take a moment here and list the many splendid things in my life.
First, I can't mention it enough, I am very grateful for the News Enterprise for giving us space. Andy Flynn and the crew have been very accommodating and helpful. In fact this is a week late, but Andy said that would be OK and he would get it in.
There is very little media in the Indian Lake/Blue Mountain Lake/Sabael area and we can always count on the News Enterprise to put us in the best light.
Did I just mention light? Check out the lights in the Town of Indian Lake. All part of the Indian Lake Chamber of Commerce 7th Annual Indian Lake "Let There Be Lights" Holiday Lighting and Decorating Contest. Regardless how cold it may be out, holiday lights can always warm the cockles of your heart.
And, though there is no snow in Indian Lake as I write this, there is on Gore Mountain. They have been making snow for some time getting the mountain ready for the holidays. The Friday after Thanksgiving is often White Friday at Gore.
The Indian Lake Chamber of Commerce has a packaging committee and one of the most receptive businesses to putting together packages to entice visitors is the Gore Mountain Ski Center.
Gore tries to work with the community in many ways. I have been in contact with Michael J. Pratt, General Manager at Gore, for Indian Lake Central School. He has offered to come in and talk to students about career opportunities at the Olympic Regional Development Authority.
I would like to thank all the individuals in town who are working to keep the town solvent — from forming non-profits to writing grants to attending the various meetings. The writing is on the wall for Hamilton County and it isn't good. Fortunately we have lots of people with erasers and magic markers trying to re-write the predicted future.
(Continued on Next Page)
Prev Next
Vote on this Story by clicking on the Icon