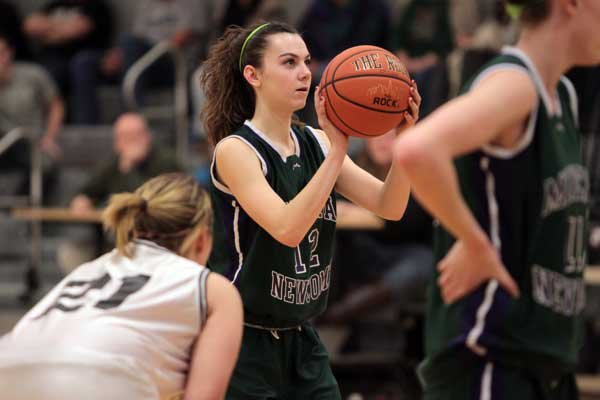 M-N Girls Basketball Schedule
Dec. 5 Crown Point
Dec. 11 Indian Lake-Long Lake
Dec. 14 @Schroon Lake
Dec. 19 @Keene
Jan. 4 Johnsburg
Jan. 9 Wells
Jan. 11 Willsboro
Jan. 15 @Crown Point
Jan. 18 @Elizabethtown-Lewis
Jan. 25 Chazy
Jan. 29 @Indian L.-Long L.
Jan. 31 Keene
Feb. 6 @Johnsburg
Feb. 8 @Westport
Feb. 12 @Wells
Newcomb — The Minerva-Newcomb girls basketball team will try to improve on their last season's record of 12-6.
Coach Matt Winslow said he lost Rebecca Bolan, Renna Yandon and Brianna Hammond to graduation, but he has seven returning players and 10 new ones, including some foreign exchange students.
"This year's team has an interesting mixture of experience," Winslow said. "I have six or seven girls with at least two years of varsity experience. A few more with some modified experience and a few girls with very limited basketball experience."
With a large squad of 17 players, the Lady Mountaineers have youth on their side.
"We have one lone senior on this year's team so we are hoping to build for the future," Winslow said. "I believe we can make some noise in the division and surprise some teams this year. That will depend on how well our players respond to playing at the varsity level."
Ashley Miller will score with short jumpers and provide solid defensive. Gabrielle McNally will be expected to score and control the lane on defense. Dakota Bennett is a rock solid defender and will score in transition. Makenzie Winslow will be the primary ball handler who will score from distance as well as in transition. Nicole Rubertone will clean up the garbage inside as well as defend and rebound. Rachel Bush, Rebecca Marra, Angela McCall, Emily Marra and Danielle McNally will make positive contributions. The rest of the team should come around with more practice.
"We should end up somewhere in the middle of the pack in the division this year," Winslow said.
The team begins its regular season on Wednesday, Dec. 5 with a home game against Crown Point.
ROSTER - M-N Girls Basketball
Ashley Miller
Dakota Bennett
Gabrielle McNally
Makenzie Winslow
Nicole Rubertone
Rebecca Marra
Rachel Bush
Angela McCall
Emily Marra
Samanthe Teders
Natalia Espana
Pranchanok Thapthanee
Tania Espana
Maria Piva
Sohee Yoo
Riyo Onishi
Danielle McNally
Head Coach: Matt Winslow
Vote on this Story by clicking on the Icon