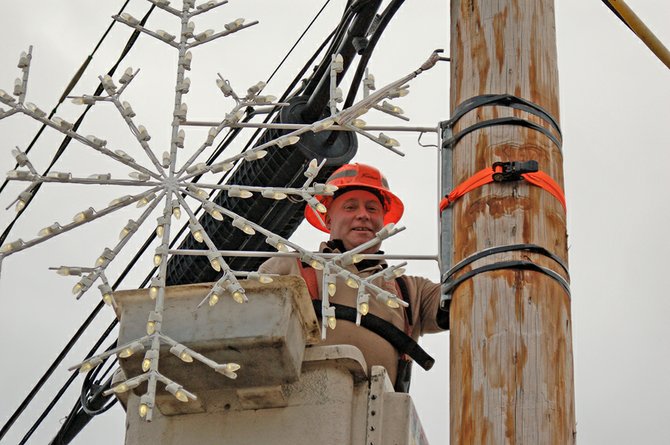 North Creek — It's time once again for the month-long Lights On holiday celebration, which begins Friday, Nov. 30.
People interested in participating in the annual Lights On parade have only a day or so to sign up and prepare a float or walking unit. For more information, contact Lisa Thomas, 251-0815 (Trimmers) or Laurie Arnheiter, 251-4461 (Hudson River Trading Company).
Here is a tentative schedule of the early Lights On activities:
•Friday, Nov. 30: Community Bank Christmas Open House from noon to 3 p.m.
•Friday, Nov. 30: 5 p.m. tolling of the Methodist Church Carillon officially sounds the beginning of "Lights On" for the 2012 holiday season.
•Friday, Nov. 30: Lighting of the community Christmas tree, which was made available by Rob Wing and family and Volt Landscaping. It will be preceded by welcome comments around 5 p.m. from Supervisor Ron Vanselow, a candlelight service dedicated to our service people led by Pastor Wayne Schoonmaker, and caroling led by Denise and Frank Conti, concluded with the playing of "Taps" by a lone bugler.
•Friday, Nov. 30: Owens House Educational Center open house with punch and cookies with Santa and Mrs. Claus. Bring your camera to photograph your children talking to this well-known couple.
•Saturday, Dec. 1: Breakfast with Santa. Enjoy a fresh cooked meal of pancakes, scrambled eggs, bacon, milk, juice and coffee at the North Creek Volunteer Fire Company. 7-11 a.m. Cereal will be provided as a choice for those who prefer. Adults $5, kids $3 and children 3 and under will be free. Visit with Santa and let him know what's on your Christmas list. Santa will have a little something for each child. Bring your cameras. Hosted by the North Creek Volunteer Fire Company Support Team.
•Saturday, Dec. 1: Lights On Festival and Holiday Parade in North Creek. The Holiday Parade down Main Street in North Creek starts at 11 a.m., with Santa Claus as a special guest. The parade will start at the North Creek Firehouse and end at the Tri-County Nursing Home.
(Continued on Next Page)
Prev Next
Vote on this Story by clicking on the Icon