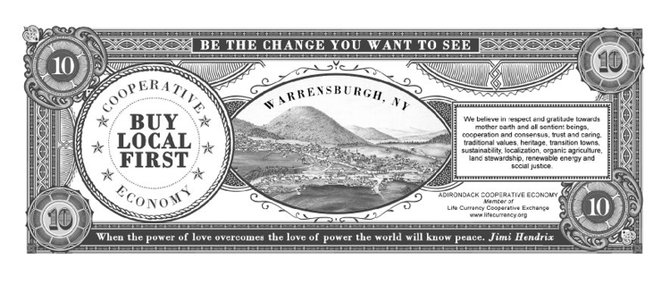 Warrensburg — Anna Busser thinks the key to the survival of the United States is found in small communities.
It is important, she said, for members of those communities to begin examining the goods and services available to them, and to use that dialog to advocate filling in what is missing.
Money is important, too, which is why Busser founded the Adirondack Cooperative Economy and began printing some specifically for the region.
"My father was a banker in Austria, so I got to see the power of a bank to rebuild a country," Busser said. "I would like to see money playing a different role in this country."
The currency, called Adirondack Bucks, is shaped like a dollar bill and has similar anti-counterfeit intricacies in its design as federal paper money, but any likeness stops there.
Most notably, there's a picture of Warrensburg on the bill where a portrait usually is, above which it reads: "Be the change you want to see."
Next to the townscape is a pitch to buy local and below that is a quote from Jimi Hendrix: "When the power of love overcomes the love of power the world will know peace."
"The idea of money came out of different discussions about how we can save our towns," Busser said. "I believe everything is interconnected with everything else. It's a matter of waking up and being creative."
Busser said modern communities are suffering greatly because their economies have not stayed local, which in turn has severed people's relationships with one another.
"We have become strangers to each other," Busser said. "The tendency is for everyone to be on their own. We've lost this togetherness."
Busser said money can help recreate community by bringing local businesses and individuals together.
So far, about 25 businesses have started accepting the currency, but that's not bad considering the money began circulating in September.
(Continued on Next Page)
Prev Next
Vote on this Story by clicking on the Icon