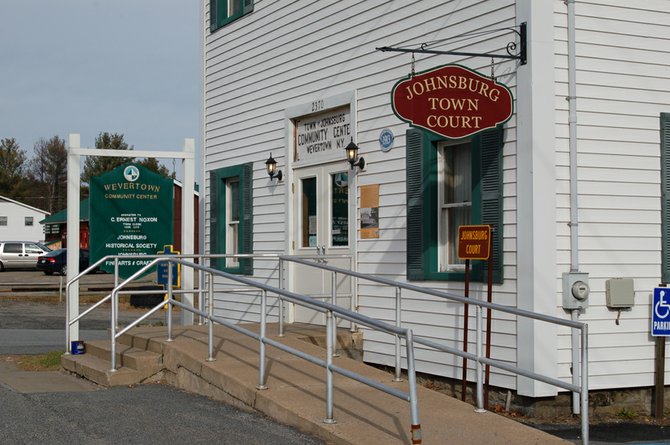 North Creek — The town of Johnsburg justice is retiring at the end of November, more than three years before his term ends, leaving the Town Board to find a replacement.
In the meantime, the Town Board has been conducting interviews to hire a new assessor to replace Ann Deppe, who is retiring from her position.
Justice James French notified Town Supervisor Ron Vanselow of his intention to retire in a letter dated Nov. 2. It was read aloud at the Nov. 8 board meeting.
"I will as of November 30, 2012 or sooner, and after 22 years of continuous service for the Town of Johnsburg, turn my total focus towards my family and myself," French wrote.
In order to help the town with its judiciary transition, French attached a copy of a 2001 order from Fourth Judicial Court Judge Jan Plumadore establishing a partnership between the court systems in the towns of Johnsburg and Chester. The order created an agreement for reciprocal justice coverage, allowing the justices of each town to hear cases in the other town. In essence, the justices would temporarily become substitutes for each other.
The town of Chester justice is currently James McDermott.
After further investigation, however, Vanselow found that Plumadore's order for a reciprocal agreement will not work in this instance, since it was meant for a case-by-case basis, not for long-term coverage.
"That document is purely for individual recusals," Vanselow said.
That leaves town officials to find coverage for the court system, and find it soon.
"We're exploring what our potions are right now," Vanselow said.
The town can either appoint a replacement, or another judge can be assigned to her cases for the town of Johnsburg.
"If we appoint someone, we probably have to do it pretty quickly," Vanselow said.
Classes for new judges start Nov. 26, and anyone who is not an attorney needs to take those classes in order to become a town justice.
(Continued on Next Page)
Prev Next
Vote on this Story by clicking on the Icon