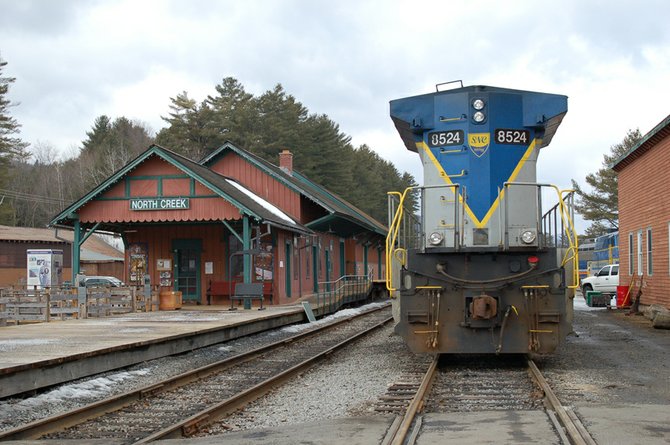 North Creek — The Saratoga & North Creek Railway Nov. 7 announced that the Snow Train will return this winter with an expanded schedule designed to serve day-trippers and skiers alike for the 2013 season.
Beginning January 11, the full-service passenger rail train will provide round-trip transportation from Saratoga Springs to North Creek with continuing shuttle service to Gore Mountain every Friday, Saturday and Sunday through mid-March.
The expanded schedule features two round-trip trains each Saturday during the 2013 season, providing an additional trip from last year's schedule. The Saturday schedule will offer both early and mid-morning departures from Saratoga Springs with return trips from North Creek in the early afternoon and evening. Fridays and Sundays will each offer one round-trip train.
"Our new schedule provides a variety of options for both skiers and sightseers alike. By running two trains on Saturdays, we are offering passengers the opportunity to either tackle the slopes early for a full day of skiing or enjoy a leisurely winter afternoon in the scenic Adirondacks," said Saratoga & North Creek Railway General Manager Steve Torrico. "We hope winter enthusiasts opt to skip the drive and jump aboard the Snow Train for a special travel experience that will offer unparalleled atmosphere, service and convenience."
The Saratoga & North Creek Railway Snow Train offers a unique winter travel experience for those heading to the slopes or looking for a trip to the Adirondacks. The round-trip from Saratoga Springs to North Creek includes conveniences not typically found in today's rail service, such as complete ski and snowboard equipment handling and storage from Saratoga Springs to the base of Gore Mountain; tableside breakfast and dinner menus with wine offerings and bar service; and picturesque views of the North Country aboard vintage midcentury dome cars.
Skiers can check their equipment before climbing on board for the relaxing two-hour ride through the heart of the Adirondacks, and transfer from the North Creek Depot to the direct shuttle service to Gore Mountain, where they will find their ski equipment waiting for them.
(Continued on Next Page)
Prev Next
Vote on this Story by clicking on the Icon