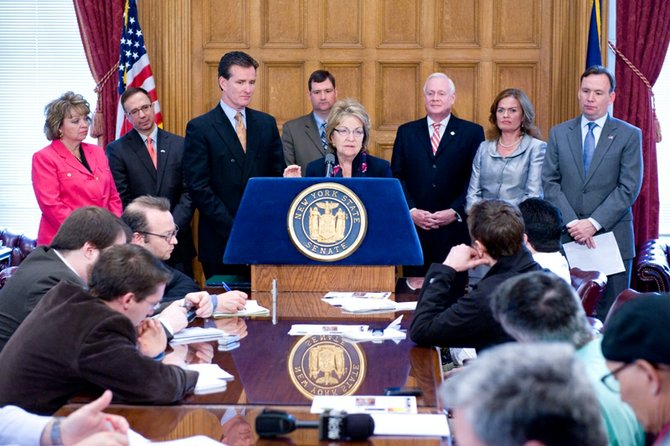 ALBANY — In an overwhelming vote Monday April 30, the state Senate passed a bill proposed by Sen. Betty Little of Queensbury that criminalizes the sale, possession or distribution of synthetic marijuana, so-called herbal incense, and hallucinogenic bath salts.
The vote was 54-2. A similar measure is now under consideration by the state Assembly Codes Committee. To become law, both legislative bodies must vote in approval, which could theoretically occur as early as late June. The measure would not be effective until at least late September, if approved in the Assembly.
Warren County District Attorney Kate Hogan and regional BOCES superintendent James Dexter addressed legislators April 30 and aired their concerns about the substances in a press conference held prior to the Senate vote.
Dexter said the use of synthetic marijuana by area high school students has increased dramatically, and the law was needed to give schools the power to ban it from local campuses.
"Students who use this fake weed can't learn — they're agitated, aggressive, paranoid, and unmanageable," he said, noting that some students in grades 5 through 9 are using it..
Dexter added that students have ended up arrested, home on suspension, or in emergency centers as a result of the drugs.
"Students use the drug, and their bodies are not returning to normal," he said, noting the lingering effects.
Warren County District Attorney Kate Hogan said the drugs have prompted serious crimes, and their use has spiraled in all age groups.
"Case after case, we see otherwise non-violent people committing horrific acts, such as the 18-year-old who stabbed his mother repeatedly," she said. Hogan also noted that in another case, Richard A. "Psycho" Velazquez slammed a woman's face into a mirror, choked her and dragged her down a flight of stairs as she held her infant child — after he smoked synthetic marijuana. Velazquez blamed the substance as prompting the vicious assault. Just last week, he was sentenced to 10 years in jail.
(Continued on Next Page)
Prev Next
Vote on this Story by clicking on the Icon