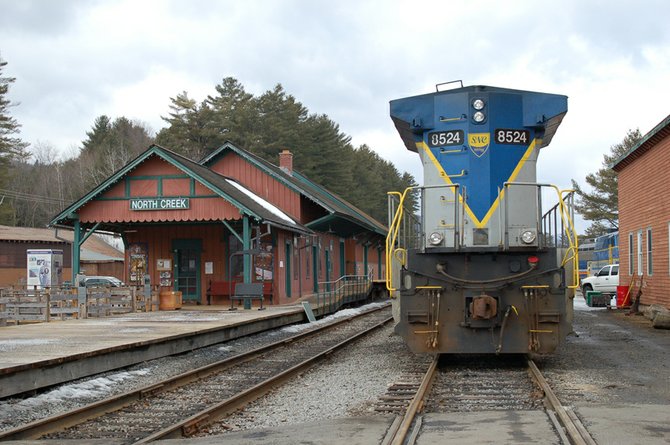 Washington, D.C. — The federal Surface Transportation Board (STB) June 14 decided to give the Saratoga & North Creek Railway an exemption for common carrier service along the 29.71-mile Tahawus Line between North Creek and Newcomb.
The exemption, which took effect Saturday, June 16, clears the way for the railway to begin hauling ore out of the old Tahawus mine, owned by NL Industries. The mine had most recently been used to extract ilmenite for the production of titanium dioxide, as well as magnetite, and the last run along the railway was in 1989.
In the decision, the STB denied a petition by the Atlantic States Legal Foundation and the Adirondack Committee of the Sierra Club's Atlantic Chapter to reject Saratoga's notice of exemption. They filed the petition on June 4, three weeks after the STB upheld its previous denial of the exemption (Nov. 23). However, the May 14 decision also said the Board's previous concerns had been answered in full. Therefore, the railway had a green light to file again for an exemption.
"ASLF/Sierra has not shown that Saratoga's notice contains false or misleading information that would warrant rejection," the decision states. "Furthermore, ASLF/Sierra has presented no issues within the Board's jurisdiction that warrant the use of the Board's petition for exemption or application process. Nor has ASLF/Sierra demonstrated that the Board needs more time to address the issues raised here before the exemption takes effect."
ASLF/Sierra argued that 13 miles of the Tahawus Line are in the Adirondack State Forest Preserve, and they claim it is protected as public forest land under Section 1, Article 14 of the Constitution of New York. They also argued that the Tahawus Line has been abandoned due to non-use. ASLF/Sierra said the Board should require Saratoga to use a procedure that would allow more scrutiny than a notice of exemption.
(Continued on Next Page)
Prev Next
Vote on this Story by clicking on the Icon