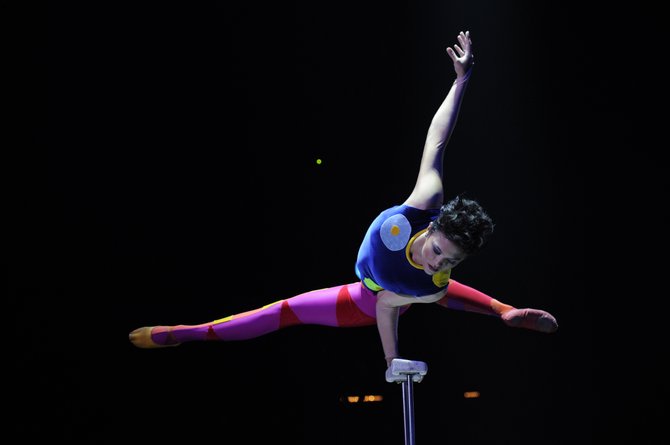 LAKE GEORGE — As I walked into the giant circus tent in Charles Wood Park with my date, my expectations were high for the level of spectacle and entertainment because years ago, I was quite impressed when I saw the Big Apple Circus during one of its residencies in New York City. The Big Apple circus is offering several shows daily through Sunday July 29
Immediately, I noticed the fanciful huge Imagination Machine which would play a role in the show's theme and clever story line. The artistry of the sets, props — even paintings on the walls — were remarkable and indicated the caliber of the show to come. Designer-directors Andre Barbe and Renaud Doucet created a set that merges science fiction with a colorful, child-friendly sense of wonder. This Imagination Machine connects to a helmet that channels dreams, and makes them come to life.
Emerging from the device are an array of well-choreographed and marvelously costumed acts, including juggler Dmitry Chernov — considered one of the most accomplished jugglers in the world — in a spacey outfit tossing glow-in-the-dark balls. The machine also yielded the rope aerialist Anna Volodko who ascended, plunged and flipped with remarkable strength, skill, and grace — plus contortionist Melanie Chy who performed remarkable balancing feats.
The Shandong Acrobatic Troupe performed truly amazing stunts, including a three-story, six- or seven-person human pyramid jumping rope with perfect synchronicity — and they closed their performance by juggling each other.
Also displaying truly incredible athleticism were the Flying Cortes trapeze artists, who accomplished gravity-defying feats with outstanding finesse and style. Incidentally, we hear their act includes the world's youngest professional flying trapeze artist.
The imagination machine provided a fun transition between the acts, which included the presentation of weird animals including a South American Capybara or an African porcupine; and the comedy and magic routines of Muriel Brugman and Scott Nelson, who mixed comic stunts with truly mesmerizing, seemingly impossible feats.
(Continued on Next Page)
Prev Next
Vote on this Story by clicking on the Icon