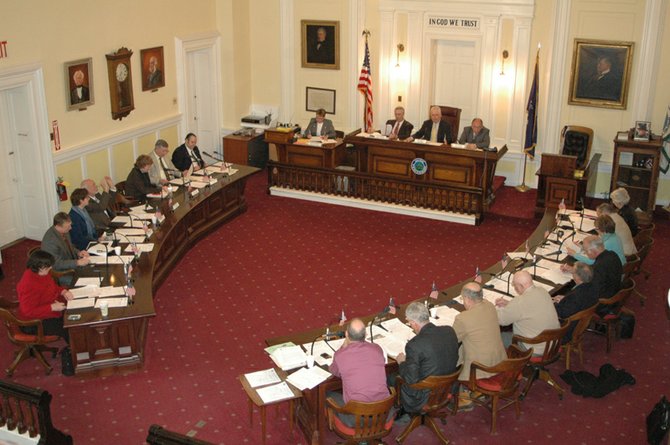 An editorial published in a local newspaper has prompted Essex County supervisors to end the practice of prayer before county meetings.
A recent editorial written by the editorial board of the Glens Falls-based Post-Star newspaper questioning the legality of invocations in Washington County prompted Essex County chairman Randy Douglas to send an email to supervisors stating that the practice would no longer take place at the start of the monthly county meeting.
"I saw the piece and it clearly shows that what we are doing is illegal," Douglas said. "I had to make the call because I could not have us continue to do something that was illegal under the constitution."
Previously, County Clerk Joseph Provoncha, a Catholic Deacon, gave the monthly invocation at the beginning of the monthly board meeting. Douglas said that because there were no other denominations represented and because Provoncha had been using names of deity in the prayer which could be seen as an endorsement of religion, they could not continue the practice.
"I have a lot of respect for Joe and what he has done for us, but I had to make this decision based on the law," Douglas said.
During the July 16 finance, tax reduction and mandate relief committee, North Hudson Supervisor Ronald Moore disagreed.
"The practice of prayer should be continued until the full board gets to talk about it," Hudson said. "I don't think the chairman or anyone else can do this without the full board speaking on the matter. He has my greatest respect. But on this issue, I am disappointed. Why are we reacting to something that was in the Post-Star?"
Douglas responded, saying that he was following the law.
"I am a Catholic," Douglas said. "I support the Catholic religion. I went to a Catholic school. When this got to such an issue that I decided to put a stop to it. You have to have a policy, and you do not have a policy in place. It's a horrible situation to be in to make a vote on something like this and personally, I don't appreciate it."
(Continued on Next Page)
Prev Next
Vote on this Story by clicking on the Icon