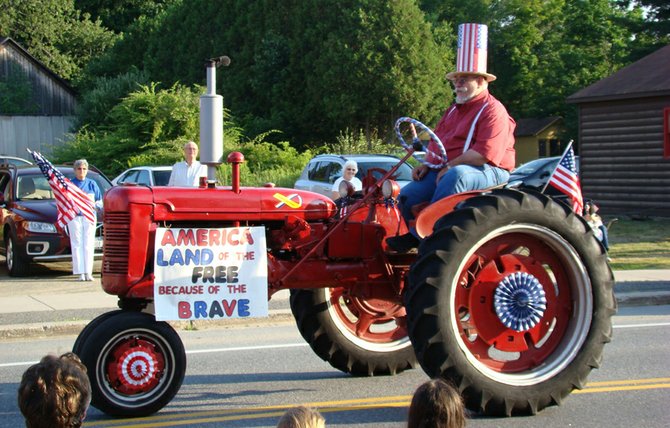 Indian Lake — On Saturday, July 7, Indian Lake took its turn at celebrating the 236th birthday of our great country.

The day was a full one, starting with a fishing derby for the youngsters sponsored by the Indian Lake/Blue Mountain Lake Fish & Game Association at Byron Park on Adirondack Lake.
The United Methodist Church hosted a bazaar, flea market and bake sale. Right around 4 p.m., the Indian Lake Volunteer Fire Department and Auxiliary held its annual chicken barbecue served in the fire hall.
As always, the centerpiece of the day's celebrating was the parade down Main Street. Those leaving the barbecue could see the excitement beginning to build in town as people lined up along Main Street to watch the parade that began at 7 p.m. The parade was led by members of the local American Legion followed by the grand marshal and 2012 Citizen of the Year, Patricia Sue Mahoney.
Ambulances and members of the Indian Lake Volunteer Ambulance Corps filled a rightful place of honor just behind the grand marshal's car.
Next, came the Indian Lake Garden Club with members appropriately dressed in attire boldly displaying and paying tribute to the fine work the organization does with flowering plants to keep the town colorful and a bit more beautiful. The Indian Lake Volunteer Fire Department and Auxiliary had its members marching ahead of a number of vehicles used to help keep the community safe. Amidst the sirens and lights, one could clearly hear the cheers of appreciation from the crowd lining the parade route.
Civil War re-enactors from the 55th Virginia Middlesex Artillery Company B, had a float brandishing a Civil War cannon guarded by a confederate soldier and a woman in period costume. A Confederate Color Guard followed the float. The soldiers in the color guard stopped every 200 feet or so and fired a loud volley from their muskets into the air to the delight of the children and the adults in the crowd.
(Continued on Next Page)
Prev Next
Vote on this Story by clicking on the Icon