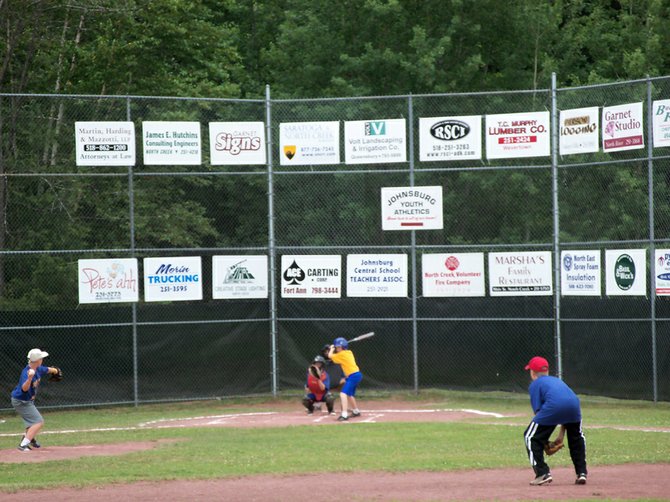 NORTH CREEK — The Town of Johnsburg held Fourth of July festivities that ended with a fireworks display at Ski Bowl Park on Saturday, July 7.
Beginning at 12:30 p.m., there was an all-star baseball game between yellow and blue teams that were made up from a mix of five Warrensburg teams, as well as the Gore and North Creek teams. The blue team won with a score of 17-10.
A number of vendors provided food and refreshments.
The Pack 36 Cub Scouts served hamburgers, sausage and peppers, hotdogs and other fare.
Phil Wilson, the co-owner of Pete's Ahh — the pizza place located on Main Street in North Creek — had a booth and enjoyed a busy day. He said that this was one of their busiest days and the only event they do outside of the restaurant. His wife, Gail, said they were busier earlier in the day than they were last year, and based on the past year's demand they had brought more pizza and added a variety of finger foods to their offerings.
Marc and Cheryl Kenyon, owners of Adirondack Maple Farm, operated a cotton candy stand. Marc explained that they use maple sugar from their farm to create the unique cotton candy they were selling. The Kenyons said they had been busy all day. Their niece, Jordan, who had been helping out, sighed and added, "Busy isn't the word!"
The dunking booth was one of the most popular entertainments at the park.
"Kids have been at it all day," said Kyle Mulligan of the Johnsburg Volunteer Fire Company.
The nearby air-filled bounce houses and slides also drew a steady crowd. Mulligan added that apart from 20 minutes of light rain, the weather had been great throughout the day despite worries about thunderstorms. In fact, due to the heat, the town decided to use one of Gore Mountain's snow making tower guns to provide a jet of cold water and mist for people to cool down in and children to play through.
(Continued on Next Page)
Prev Next
Vote on this Story by clicking on the Icon