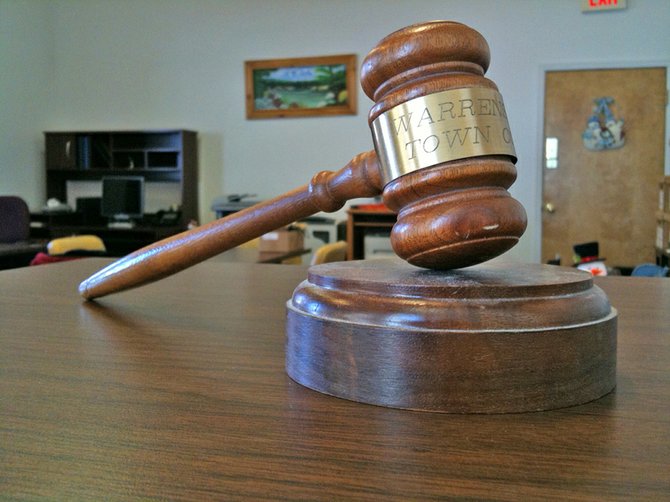 WARRENSBURG — Warrensburg Town Court — Jan. 11 — Judge Mindy Fisk presiding:
• Robert B. Fish, 48, of 40 Smith St. in Warrensburg was arraigned on multiple charges including Felony second-degree Attempted Assault as well as a Misdemeanor of Resisting Arrest, based on an incident at 11:31 a.m. Jan. 6 on River St. Police said that Fish attempted to slug Warren County Sheriff's Patrol officer Greg Seeley in the face while the officer was trying to arrest him on a charge of Disorderly Conduct. He attempted to flee the scene during the struggle, police said. Fish is also charged with Criminal Possession of a Weapon, a Misdemeanor. Police said that at the time of the arrest, he possessed a .22 caliber rifle, which was illegal because he had been convicted of a Felony in Warrensburg Town Court Aug. 25, 2003. He also faces a charge of Disorderly Conduct/Obscene Language for telling Officer Seeley "I'm not going to drop the (expletive) gun." He was sent to Warren County Jail for lack of $5,000 cash bail. Fish told the judge he was unemployed.
• Sandra L. Maston, 18, of 6334 Main St. in Chestertown appeared in court, to face a Felony charge of second-degree Assault based on an incident at 8:15 p.m. Dec. 11. Police said she struck a man with her 2000 Hyundai, causing injury to his left leg. In relation to this incident, Maston is also charged with the misdemeanors of Reckless Endangerment, third-degree Aggravated Unlicensed Operation, and Leaving the Scene of a Personal Injury Accident. A three-month order of Protection was issued barring Maston from contacting the man. Maston was sent to Warren County Jail for lack of $500 bail.
• Lucas A. Langley, 33, of Oak St. in Warrensburg, pled Guilty to a charge of Endangering the Welfare of a Child, a Misdemeanor, based on an incident in June on Oak St. in Warrensburg, when he touched a girl less than 14 years old in a private part of her body. He was sent to jail for 10 months and fined $205. A charge of second-degree Sexual Abuse was dismissed in the case. A one-year order of protection was issued, barring Langley from contacting the girl.
(Continued on Next Page)
Prev Next
Vote on this Story by clicking on the Icon