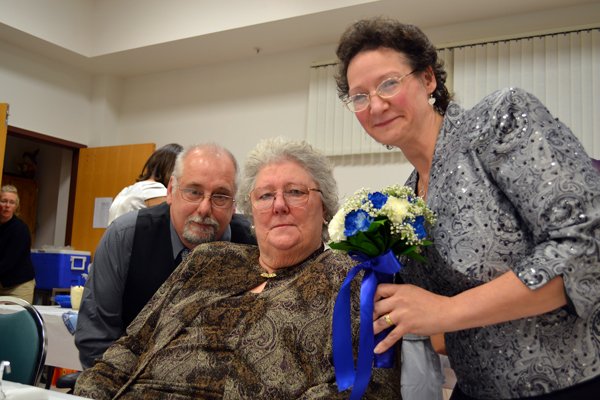 North Creek — Holiday wishes do come true, with a little bit of creativity.
After an early November auto accident that left her with both hips and a femur broken, white-haired grandmother Rita Holland was bed-ridden at the Adirondack Tri-County Nursing Home and Rehabilitation Center.
Her son, Denny Holland, was getting ready to marry Dee Hoffay. But even after nearly two months of recovery, Rita was in no condition to leave the rehab facility.
Denny's father died early in 2011, and making sure his mother could attend his wedding ceremony was a priority.
"He adamantly wanted his mom there," said Hoffay. "There was no question whether or not she would be there; we just needed to make that happen."
So Hoffay, who'd done some job training at the facility about 20 years ago, got in touch with an old friend. That friend is Nancy Truland, now director of nursing at the Tri-County facility.
"She called me and asked if they could do the wedding here at the facility," said Truland, who's worked there for 25 years. "I said I guess so, I don't know why we couldn't."
Hearing that the Tri-County facility could accommodate them was a really happy moment for Denny.
"That was the only way my mother could be there," said Denny. Otherwise, she'd only see photos or a video.
So the wedding was on, set for a dining room at the facility Dec. 30. The accommodation of the nursing home staff was a first for a lot of people.
Robin Williams, who officiated the ceremony, shrugged when asked about the unusual setting, and said, "You can do a wedding anywhere." The most unusual location he could quickly recall presiding over a marriage was the fountain at the Word of Life.
Hal Payne, director of the nursing and rehab facility, recalled a pair of residents being married at another facility he worked at, but has never seen an event like this.
(Continued on Next Page)
Prev Next
Vote on this Story by clicking on the Icon