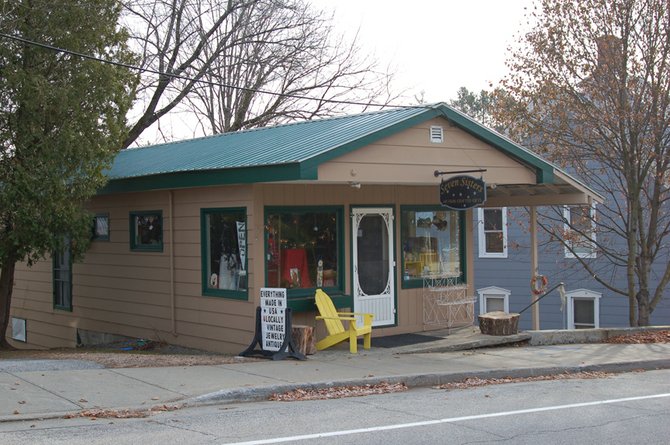 North Creek — Nancy Dunn will be celebrating the one-year anniversary of her shop — Seven Sisters Artisan Gifts — this week. And, so far, business in North Creek has been good.
"We've done very well, both in the wintertime and in the summer," Dunn said. "The train has helped, but it's really been second-home owners and visitors for the weekend. That's been the mainstay of our business. It's really surpassed my expectations the first year."
Dunn, who spends her days teaching senior and AP English at the Lake George High School, opened Seven Sisters at 238 Main St. on Dec. 18, 2011, just in time for the Christmas shopping season. Nanci Vineyard is the store manager. A poster on the wall proclaims Vineyard's dog, Sandi, as the "Employee of the Month."
"You know, we actually have people who come into the store just to visit with Sandi," Dunn said. "She is the perfect store dog."
And she's the perfect advocate for the pet section at Seven Sisters, which includes organic dog treats, dog sweaters, locally made dog dishes and beds, handmade cashmere/catnip cat toys and organic cat treats.
"Local, local, local is the raison d'etre of our shop," Dunn said. "Buy local, sell local, and support your local artists."
Everything at Seven Sisters either locally made or made in America. The dog toys are non-toxic. The pottery is non-toxic. The quilts are all made with good, safe material. She won't even sell items using parts made in China, like jewelry.
"I got on this 'Made in America' bandwagon about four of five years ago, and everything in our store follows that," Dunn said. "We've had a lot of people who are thrilled we are doing this. They like the safety factor of it, too. Like our dog treats are made by a woman in New York. They're not made in China putting all sorts of weird things in them."
(Continued on Next Page)
Prev Next
Vote on this Story by clicking on the Icon