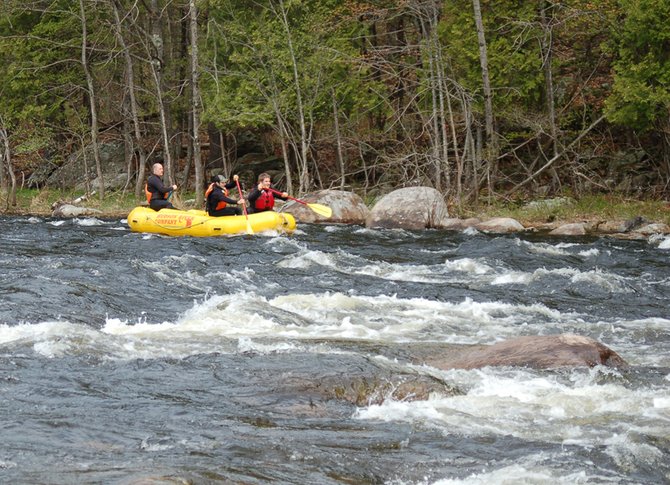 North Creek — The owner of the Hudson River Rafting Company faces additional charges of reckless endangerment.
Patrick Cunningham, of North Creek, was charged with two counts of reckless endangerment Tuesday, Dec. 11 in Hamilton County Court.
Hamilton County District Attorney Marsha Purdue said that brings the count to four charges of second-degree reckless endangerment, misdemeanor charges, against Cunningham for two separate incidents in August 2010 and May of this year.
The new charges stem from a May 27 incident where two riders, Ross Goldstein and Tammy Rowe of New York City, said they were part of a group rafting down the Hudson River when Cunningham exited the raft and sent them on the last 4 miles of the river unsupervised.
"Only two of the riders submitted a complaint, but they said there were more riders with them," Purdue said. "They said one of the other riders was a child, and the other riders didn't speak English very well."

Purdue said the four charges won't necessarily be handled together. The charges stemming from the August 2010 incident will go before the grand jury during the week of Jan. 14. Purdue said she hasn't decided if she will put the recent charges before the grand jury.
Agreement violated
Cunningham had been indicted in Hamilton County Court on two counts of second-degree reckless endangerment for two separate incidents in August 2010. It was reported to authorities that Cunningham sent a kayaker down the river without a licensed guide and abandoned a raft group, consisting of mostly children, leaving them to finish half of their trip, again, without a licensed guide.
However, on March 29, that indictment was adjourned "in contemplation of dismissal" until Sept. 29 under three conditions:
•No raft from the Hudson River Rafting Company and/or Patrick Cunningham be operated without a licensed rafting guide, except where there is a written rental agreement that the customer agrees to "captain" his/her own raft;
(Continued on Next Page)
Prev Next
Vote on this Story by clicking on the Icon