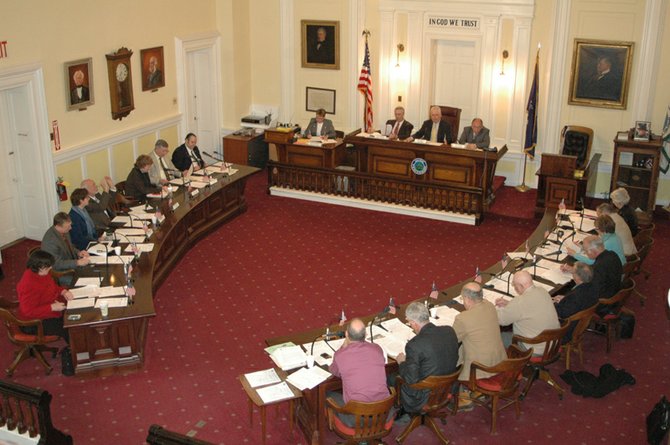 Elizabethtown — The tentative 2013 Essex County Budget was passed easily under weighted voting, adopting a spending plan that represented a 1.13-percent increase to the tax levy.
The tentative budget was passed, 2,077-718, during a special county board meeting Dec. 10, with the average tax rate expected to increase five cents up to $2.40 per $1,000 of assessed property value.
The budget calls for $95,000,115 in spending with $71,689,099 in revenues and $6,850,000 in fund balance, leaving a tax levy of $16,461,016.
County Manager Dan Palmer said the tax levy was decrease from 2.68 percent to 1.13 percent when charge-backs from the towns were added into the budget.
"This is the flat amount that is applied to everyone and then you look into the charge-backs and other factors," Palmer said. "If there were no charge-backs, we started with 2.68 percent. Once the town puts it as a charge-back against the county warrant, then it no longer goes to the towns. That is how we went from 2.68 percent to 1.13 percent."
Moriah Supervisor Tom Scozzafava said the charge-backs would affect local municipality taxes based on the amount each had in charge-backs.
"You just shifted it from one to the other," Scozzafava said.
The nine voting for the budget were Charles Harrington (Crown Point), Sharon Boisen (Essex), Randy Douglas (Jay), Scozzafava, Roby Politi (Wilmington), Michael Marnell (Schroon), Deb Malaney (Ticonderoga), Ed Hatch (Willsboro) and Randy Preston (Wilmington).
Voting agains the budget were Gerald Morrow (Chesterfield), Margaret Bartley (Elizabethtown), Bill Ferebee (Keene), David Blades (Lewis), Sue Montgomery Corey (Minerva), George Cannon (Newcomb), Ronald Moore (North Hudson) and Dan Connell (Westport).
With only one person speaking during the public comment period of the meeting, a majority of supervisors took a chance to make their feelings known on the budget.
"We can all appreciate the amount of work that has gone into the budget process this year," Lewis Supervisor David Blades said. "I am most concerned with the future and the unknown. We can never get to a balanced budget by artificial means. It is my opinion that we are using an excessive amount of fund balance in order to make this board look good."
(Continued on Next Page)
Prev Next
Vote on this Story by clicking on the Icon