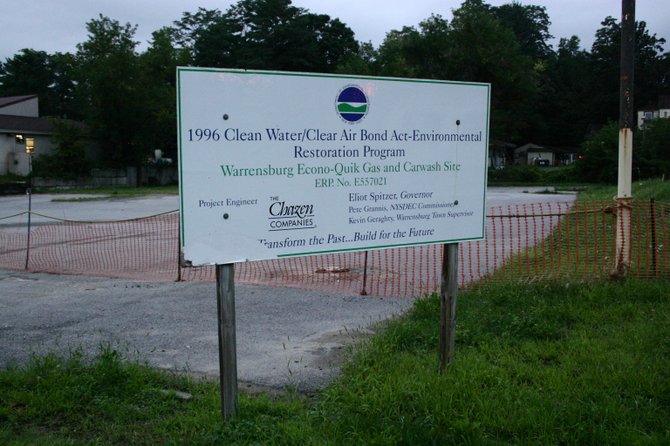 WARRENSBURG — A plot of prime downtown property — a vacant "brownfield" cordoned off for 12 years or so — will soon be available for commercial use, Warrensburg supervisor Kevin Geraghty told his town board this week.
After years of delay, a final engineering report was issued by the state Department of Environmental Conservation, which concludes that the site, once the Econo-Quik Car Wash & Gas Station, is now free of pollution exceeding state standards.
In 2001, the DEC mandated a cleanup of the site due to underground fuel contamination from fuel tanks on the site. In the intervening years, the agency oversaw cleanup of the site.
DEC's final approval, freeing up the property for resale, is pending. Once the agency issues this certification, the town will be seeking to take ownership and sell the property to get it back on the tax rolls.
New dog Warden as Hall retires
Also, Geraghty announced that Brenda Barrett is to become the town Dog Warden as of Dec. 21, replacing Dave Hall who is retiring. Geraghty praised Hall's performance, noting he has served in the position since 1981.
"Dave's done an admirable job," Geraghty said. "I'm sure we'll miss him, but Brenda is willing and ready to do the job."
Geraghty joked that in six months, she might change her mind.
"Welcome, Brenda — and farewell to Dave," he said, noting that residents are now to call 538-3648 with their canine concerns.
Town Board actions:
In other business, the town board:
• Passed a resolution formally making all town owned recreational properties tobacco-free. Signs to declare the status are to be provided at no charge by the regional Tobacco-Free Coalition. Although the measure was initially drafted to cover all town properties, the board decided that it should apply to just the recreational facilities.
• Voted to purchase a one-year music performance license from the American Society of Composers, Authors & Publishers (ASCAP) so musicians at the town bandstand concerts could perform music protected by the union.
(Continued on Next Page)
Prev Next
Vote on this Story by clicking on the Icon