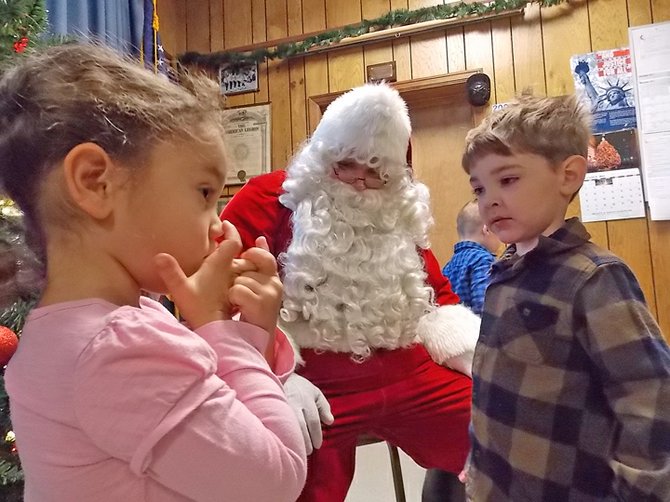 North Creek — Residents here held a number of special events Saturday, Dec. 1 as part of their annual Lights On holiday celebration.
The North Creek Volunteer Fire Company held a Breakfast with Santa where children age 3 and below could visit with Santa, receive a gift, and get a free breakfast. Adults paid $5 for fresh cooked pancakes, eggs, bacon, and their choice of milk, juice, or coffee.
"It's crazy!" said Chief Steve Studnicky. "This is only our third year doing this. The first year we served 40, the second 160, and it looks like we'll clear 180 before we're done."
The day's main event was a large parade down Main Street. Nicole Calvert, who was waiting with Brownie Troop 3686 in the library to join the passing parade, said the festival "spreads happiness in the air and gets everyone movin' and groovin' to the holiday spirit."

The Main Street parade was led by the Johnsburg Central School (JCS) Drum Corps and the JCS Pop Singers. It featured many other participants including: the North Creek Cub Scouts Pack 36 dressed as gingerbread men; Brownie Troop 3686 dressed as sugarplum fairies; Johnsburg Town Supervisor Ron Vanselow driven by Anna Bowers in a courtesy shuttle, Mr. and Mrs. Santa Claus in their sleigh, and Smokey Bear in an airboat. People lined both sides of the street to watch the event and collect some of the candy canes and foil wrapped Christmas chocolates that were giving out by many groups.
Nicole Koraus, from Izzy's Market Place & Deli, said they had been busy selling coffee and bagels to people waiting for the parade during the morning. Her co-worker, Jessica Lapoint — who recently moved to the area — said it was great to see how the festival brings the whole community together.

The Copperfield Inn was hosting the Lights on Craft Fair and the Gore Business Expo during the day on Dec. 1.
(Continued on Next Page)
Prev Next
Vote on this Story by clicking on the Icon