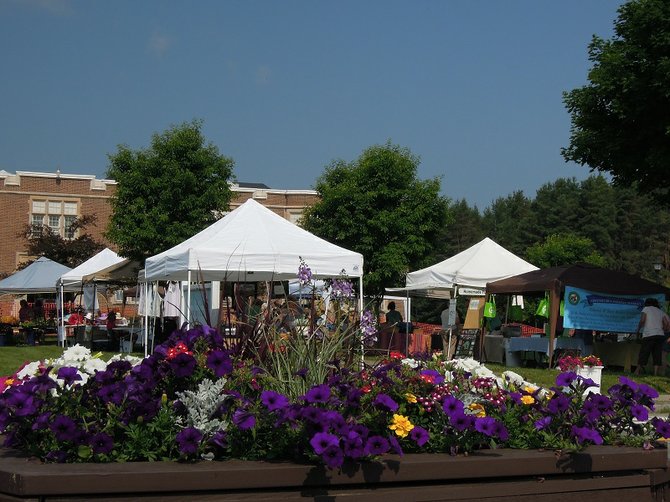 CHESTERTOWN — Recent criticisms of the Chestertown Farmers' Market — claims it was disruptive to the town municipal center and incompatible with the new Veterans Plaza — were countered this week by town officials and market participants.
Town of Chester Zoning Administrator Walt Tennyson submitted a letter Aug. 14 to the town board identifying "recurring problems" with the market, including vendors' trucks parking on the lawn, a "clutter" of cars parking on the center's driveways or on Main St., causing an "extremely dangerous" traffic situation. Tennyson suggested in the letter that the market be moved to the town's Dynamite Hill Recreation area.
At the Chester town board meeting that same day, Mary Jane Dower, one of the market's organizers — and leader of the Chester's downtown revitalization committee — refuted the allegations and defended the market, point by point.
Her points received hearty applause from the audience. Also, the conduct of the market was praised by the board.
Tennyson said in his letter that vendors trucks were parked on the sod that was just planted as part of the Veterans' Memorial Plaza project. Dower countered that no vendors had parked on the sod, but on old grass that hadn't been watered regularly and was dead. She said that those vendors who needed ready access to their inventory were parked in appropriate places where they wouldn't hurt the lawn.
Referring to a complaint by Tennyson that one market attendee picked town flowers and that a child or two had climbed on a monument, she said the incidents weren't necessarily problems caused by the market, but were simply inappropriate behavior.
She noted that the traffic "problems" were actually an indication of a positive trend.
She said it was the goal of town leaders to boost traffic into downtown Chestertown to patronize local businesses and boost the economy — and eventually fill up the empty storefronts with viable businesses.
(Continued on Next Page)
Prev Next
Vote on this Story by clicking on the Icon