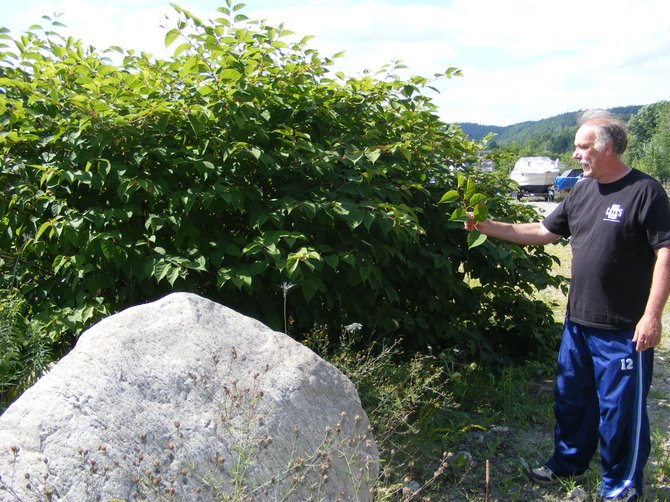 Local resident John Wulfken grabbed a branch off a bamboo-like dense shrub that had recently grown to be about 25 feet long at the town landfill.
"This is nothing," he said, looking at various six-foot-tall stands of Japanese Knotweed circling the landfill. "I can show you places that are really infested with this fast-growing weed."
John Wulfken talked Aug. 12 of how Japanese Knotweed is now spreading through the hamlet of Warrensburg, taking over back yards, vacant lots, and threatening property values as its roots grow horizontally underground, sending up dense shoots that quickly crowd out other plants.
"People don't understand what a threat this can be, and how hard it is to get rid of it," Wulfken continued, observing that it often grows under driveways and breaks up asphalt. It's also known to grow through cracks in concrete walls, ruining foundations.
"Some banks won't write mortgages for properties that have Japanese Knotweed present on site," he said.
After waging his own personal battle for three months with Japanese Knotweed in his own back yard as well as his neighbors', Wulfken decided recently to turn his effort into a crusade that will help others identify the pernicious weed and take efforts toward controlling it.
"I'd like to let others know what a threat this weed can be, how it spreads like crazy and how much damage it can cause," he said.
Wulfken contacted town officials and volunteered to conduct curbside inspections, inform homeowners who have the weed on their property, and distribute brochures door-to-door describing the weed's threat — and detailing methods of controlling it.
Warrensburg Town Supervisor Kevin Geraghty said at the Aug. 8 town meeting he's happy to take Wulfken up on his offer. Town officials praised Wulfken for demonstrating good citizenship in investing time to protect people's property values and eliminate a weed that can be a burden to homeowners.
(Continued on Next Page)
Prev Next
Vote on this Story by clicking on the Icon