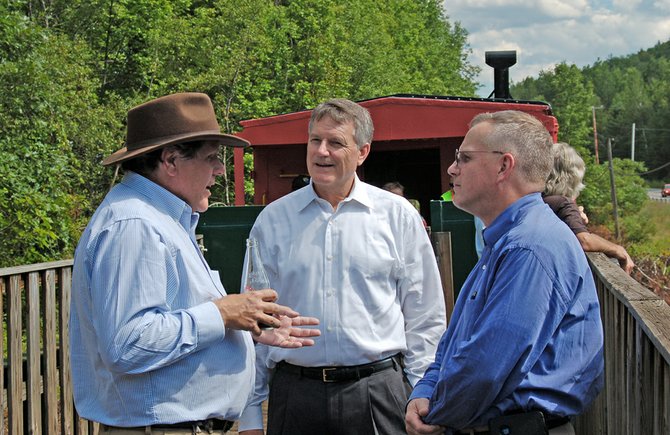 continued — "It's a great day for the North Country," Goodspeed said. "It's something a lot of people have worked very hard on for a number of years going all the way back to the late '80s when the station was collapsing, to here we are with a renovated station, an active museum, freight service, passenger rail service and a vibrant economy in downtown North Creek that's spreading out to other parts of the Adirondack economy."
The brush and trees were cleared along the tracks just enough to make this run up to the Barton processing plant at 10 miles per hour. It's real progress, but it's mostly symbolic. There's still plenty of track to be fixed, according to Ellis.
"We're going to press on to Tahawus," Ellis said. "We're really proud to have made it this far, and we're thrilled that Barton Mines is here with us. We'd like for them to become our customer. We're working very hard at that. We're working to make that happen. So we're just thrilled that the line is open."
The railway offers daily passenger service in the summer from Saratoga Springs to North Creek, plus a Polar Express and ski trains in the winter, but officials need freight service, from the Tahawus and Barton mines, to be profitable. Bracken said what's good for the railway is good for his company.
"From Barton Mines' perspective, it's great to have another alternative for transportation, and a great alternative," Bracken said. "And as everybody knows, we're very focused on the environment with our green office building in Glens Falls. We welcome Ed, and we love the fact that we're going to have that alternative. And, as I said back in North Creek, being one of the oldest and largest employers in this area, anything that stimulates the economy in this area is good for Barton Mines and good for the economy ... so we look forward to welcoming them and hopefully sometime soon we'll have our first truckload, or trainload, of garnet going down the rails."
Vote on this Story by clicking on the Icon