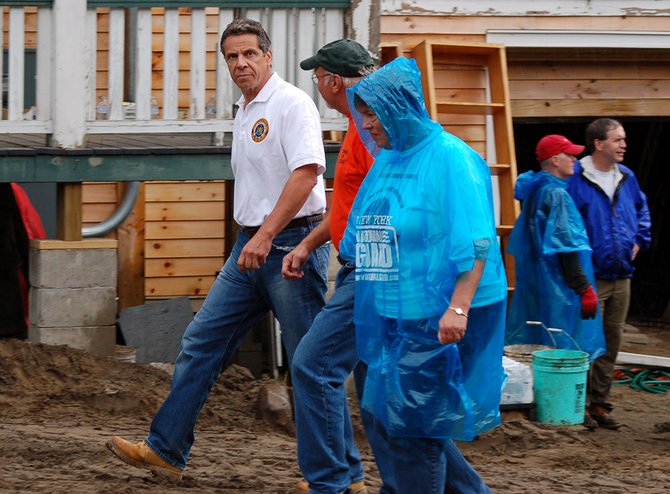 Elizabethtown — New York State will take the bill for Tropical Storm Irene and Lee cleanup.
The state announced late last week that it would be paying for the 25 percent local municipal share of disaster costs not covered by the Federal Emergency Management Agency, which will pay 75 percent of repair and recovery costs related to the pair of tropical storms that hit the state in August and September of last year.
Gov. Andrew Cuomo said that the state will pick up the local share for most eligible expenses, making $61 million available to 25 counties to cover costs associated with emergency shelter, road, water system and infrastructure repair; along with stream and riverbed mitigation, and other cleanup projects.
"For us in the town of Jay, this means about $360,000 dollars that our town taxpayers won't have to cover at least on our town tax," Jay Supervisor and Chairman of the Essex County Board of Supervisors Randy Douglas said. "I am so happy right now and am thrilled for our town of Jay and Essex County residents that are struggling to survive. I am so thankful to the governor and our local state representatives for making available some financial help."
Douglas said that any financial help is welcomed, especially since Irene came on the heels of record spring flooding.
"We are three million dollars in debt from last year's spring storm and Irene, on a less then two million dollar annual budget," Douglas said. "This, along with the possible tax relief bill for residents being affected by Irene with over 50 percent damage to their homes covered by the state for a property tax refund is a great relief to me."
"I am very pleased to see New York State pick up the local share," Sen. Betty Little said. "I thank Governor Cuomo for his commitment and interest in seeing the best possible outcome for the North Country. He's been with us every step of the way."
(Continued on Next Page)
Prev Next
Vote on this Story by clicking on the Icon