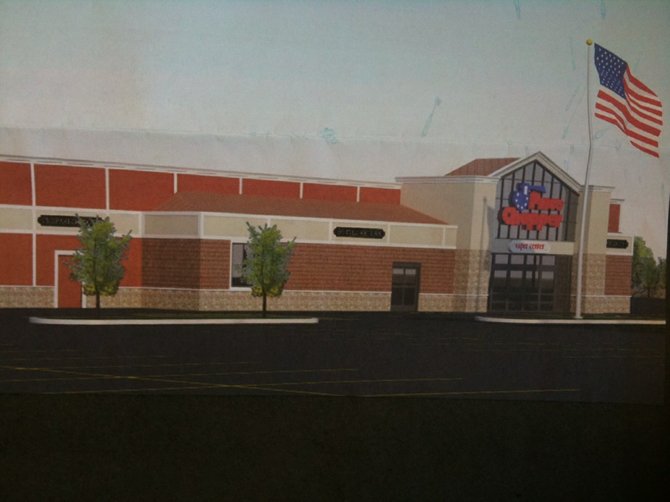 Lake George — The plans for a new Price Chopper supermarket and a shopping plaza near Northway Exit 23 just south of Warrensburg are moving forward, area officials said this week.
Vanguard Fine Real Estate development has submitted site plans, engineering reports and an architectural elevation to the town of Lake George describing a 30,500 square foot grocery store in a shopping plaza that would include another 10,800 square foot store, a freestanding bank branch and a another store of about the same size in a center that includes 229 parking spaces.
The site plans include an architectural drawing of the supermarket, bearing a Price Chopper logo. A representative of Golub Corp., Price Chopper's parent company, was before the town of Lake George Planning Board in early December with the extensive plans. Attempts to reach Price Chopper were unsuccessful Wednesday.
The plaza would be wedged between Bakers Crossing Road, Prosser Road and Harrington Hill Road, about 150 feet off Rte. 9, across from McDonald's Restaurant.
The development plans are pending an agreement between the town of Warrensburg to contract with the town of Lake George to provide sewer and water services.
Warrensburg Town Supervisor Kevin Geraghty noted that the town was ready to negotiate such a contract as soon as the town of Lake George forms both a water district and sewer district that would not only provide services for the proposed shopping plaza, but the Mobil Station and McDonald's Restaurant as well.
He said the water and sewer services would be sold at a rate that would provide income for the operation of the Warrensburg sewer and water districts, and that the charge to the new Lake George district might include a significant portion of the capital costs of developing a new well.
A traffic study submitted with the plans estimates that as many as 419 vehicles per hour would visit the plaza, and that quantity would mean erecting a traffic signal at Prosser Road and Rte. 9.
(Continued on Next Page)
Prev Next
Vote on this Story by clicking on the Icon